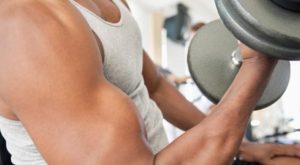 Cardio workouts like trademill, kickboxing and spinning class are the best worouts for the weigth lifters. We all know those guys who slave in the gym pumping iron day in and day out but you never catch them on a treadmill. What most of these men don't realize is that all of the work that they are putting in to lifting weights won't show unless they add the element of cardio into their workout. So if you find that you are one of those guys who love the free weights but not the cardio area, venture into the unknown world of the cardio and try something new.
Treadmill – The best and most effective way to get cardiovascular exercise is running. If you find it to be boring and monotonous try bringing your headphones and rock out to your favorite tunes. Also if you are just starting your cardio regimen take it slow. Start out with a 30 minute jog at a slow pace and slowly work your way up.
Kickboxing – A fun alternative to the cardio machines is kickboxing. With high energy punching, kicking and overall movement it doesn't even feel like cardio. You can work up a sweat while learning some new moves.
Spinning Class – If you struggle with staying motivated for cardio workouts join a spinning class. It's a killer cardio workout and with a class full of people and a professional instructor it's an easy and entertaining way to burn those calories.