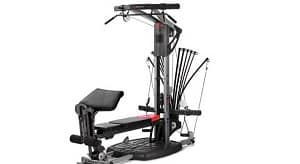 There is a ton of exercise machine out there claiming to be the latest and greatest but what actually works and what is a worthless waste of space? When selecting exercise machine space and function are big factors in how useful the equipment will be for you. For example, the leg press machines are great at the gym but do you really want to hog up half of you guest bedroom with a large bulky piece of equipment? We didn't think so. To get the most bang for your buck try a couple of these in your home gym.
Top Home Exercise Machine Types to Put in Your Home Gym
• Iron Gym Bar
The Iron Gym bar is a great piece of exercise machine to have at home. This multi-function bar is small, lightweight, doesn't require assembly and can give you a complete upper body workout. You easily hang in a door way for pull ups and bring down to the floor for push-ups and dips. For about $40 the Iron Gym bar is a huge value for the money.
• Bowflex
The Bowflex machine is one of the oldest yet most useful multi-function exercise machine on the market. By using resistance rods instead of traditional weights you can increase the intensity and work all of the major muscle groups effectively. During an exercise the pulley system functions in two ways, one to exercises the muscles and two to stabilize them with resistance that goes up to 410 pounds on some models it can better simulate a workout at the gym. This piece of exercise machine can cost between $650 - $2,000+ but can be well worth the investment if you add up the savings from cancelling that gym membership.
• Adjustable Dumbbells
Adjustable dumbbells are a great alternative for someone who doesn't have the space to set up a large rack full of different weighted dumbbells. It's just two dumbbells where you can adjust the weight up or down in 5 lb. increments from a range of 30 – 90 lbs. Depending on the brand this piece of equipment can run you between $250 - $500 which is worth the investment if you use them regularly and can be a huge cost saver in comparison to a set of dumbbells.