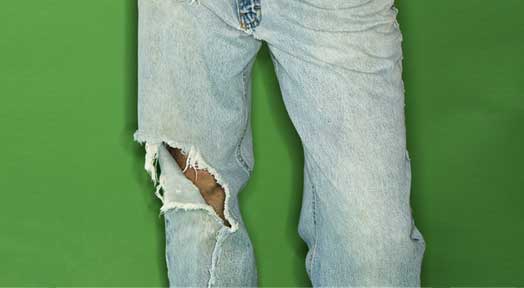 Fashion trends you should have outgrown. Now, we're gonna start out by being fair here. We know it's just not a guy thing to throw out perfectly good clothes that still work. That's the kind of thing chicks do when they run out of space and want more stuff. So we understand why some things in your closet have survived year after year without making it to the charity pile. But all that's about to change, because we've also seen you continuing to wear these things when the laundry piles up. Here is a list of fashion trends you should have outgrown in high school.
Fashion trends you should have outgrown in high school
Ripped jeans… seriously, good denim doesn't need holes in it to be cool, or comfortable. Anyone who tells you differently is likely trying to sell you pre-ripped denim. That doesn't mean a slight bit of manufactured rubbing on pocket seams or belt loops isn't okay, but the open knees or randomly placed rips all over the legs has got to go… as it should have back in 1998.
These clothing item should be kept in the drawer
Band t shirts are really cool mementos from concerts and your first favorite song and that 'rad' road trip you took with your friends that one summer. And back in those days is where they belong. We're not saying don't ever pull them out of the drawer and reminisce; just don't wear them out of the house. The only acceptable way for those shirts to see wear these days is as a nightshirt for your girlfriend, wife, or other lady companion.
Leave those beat up chuck taylors in the garage
If you've missed the memo on sneaker chic, consider this your engraved invitation to join the party. Your beat up Chuck Taylors where the sole is pulling apart from the rest of the shoe and the laces are knotted to keep them together… have done an admirable job. It's time to let them retire. Sneakers only made the acceptable dress code list when people started buying quality kicks with real fashion appeal. It's okay, you can start small with some basic low-profile ADIDAS or PUMAs until you make the transition.
Bust out the letter jacket it's class reunion time.
There is only one, and we do mean one, time when your letter jacket or sweater is appropriate attire: The class reunion where they are honoring your championship-winning team. Wearing it even one day past senior summer just shows people you've not done anything better with your life since then. Take it to a reputable dry cleaner or sporting goods store that specializes in preserving clothing items. They'll clean the jacket or sweater and package it so the leather stays supple or the sweater stays free of moth holes until your kids can marvel at your high school awesomeness.