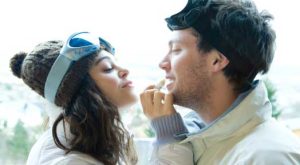 Fall and winter are two of the worst times of the year for skin, and it's not just women that suffer during this time us males do too. Dry skin is uncomfortable, itchy, and unattractive. But this winter you can fight the cold with skin care products that will protect your skin and keep it healthy. We have your cold weather skin care products lined up for you and your skin head-to-toe.
Let's start with your face. That handsome face of yours takes quite a lashing during the day and needs high quality nutrients during the cold weather to keep it healthy. Between shaving, eating, and kissing a man's face it gets a lot of use and in order to avoid dry flaky skin you have to moisturize. Try Billy Jealousy Assassin Intensive face moisturizer to keep your face looking soft and supple all throughout the cold weather season. Also, don't forget about your lips and opt for a mint based lip balm that will keep your lips from drying out.
Next to the face your hands, feet, and abdomen are the most vulnerable places for your skin when it's cold outside. Traditional moisturizer is great for sealing in healthy skin but before you apply to your skin, exfoliate it. In cold weather your skin will get flaky and strip, and instead of trapping in the dead skin cells remove them by exfoliating. A great exfoliate for a men is simply a textured sponge with your face wash. Wait until the end of your shower so your pores are open, then apply your face wash to the sponge and gently scrub in a circular motion. This will loosen up the dry skin and remove it leaving your face feeling smooth and clean. Once complete apply a facial moisturizer like Jack Black's Double Duty Face Moisturizer with SPF. Even in winter your face is exposed to harmful Sun rays that can cause irreversible damage if you not careful.
During your daily hygiene routine make sure to only use products that moisturize your skin, and avoid any product that has a tendency to dry it out. Cold weather has a tendency to be even harder on your skin in the fall and winter, and unless you have ultra-oily skin you will likely have to apply lotion in the morning and evening to keep dryness at bay. Just follow these simple tips to weather proof your skin for the cold this year.