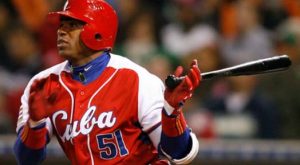 The latest Cuban addition to Major League Baseball was made official Thursday as power-hitting first baseman Jose Abreu agreed to a contract worth $68 million with the Chicago White Sox. The deal will be for six years.
Abreu will become the third Cuban to defect to the United States and enter the majors in the past season. Rising stars Yasiel Puig of the Dodgers and Yoenis Cespedes of the Oakland A's entered the league last season and both had great rookie years.
Abreu, 26, is a 6-foot-3, 250-pound right-handed slugger who hit .360 in last spring's World Baseball Classic. He added three home runs and nine RBIs.
In the 2010-11 season in Cuba, Abreu hit .453 in 63 games. He missed several games with a shoulder injury but still managed to hit 33 homers and knock in 93 runs. The year prior, 2009-10, Abreu hit 30 home runs, batted .399, and drove in 76 runs.
The White Sox won the battle for Abreu with the six-year, $68 million deal. They won out over the Texas Rangers, San Francisco Giants, Miami Marlins, Houston Astros, and the Boston Red Sox. The Red Sox defeated the Detroit Tigers 4-3 Thursday night to go ahead three games to two in the American League championship series. They can clinch a trip to the World Series with a victory in Game 6 on Saturday night in Boston.
Chicago is in need of some serious help. They were last in the American League in runs scored with 598. The White Sox finished the regular season ranked 13th in slugging percentage at .378. Abreu should help bring those numbers up.
The White Sox freed up some room under the salary cap when they traded Jake Peavy to the Red Sox. Chicago also traded Alex Rios to the Rangers. Abreu will be expected to take over at first base for Paul Konerko, who is set to become a free agent.