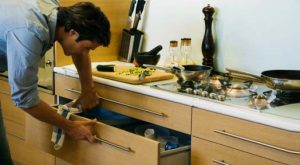 If you are like most men, cooking may not be on the top of your list of things to do. You may be lucky enough to have a significant other cooking most of your meals, allowing you to kick back and relax when you get home. Others may even enjoy cooking, whipping up meals that even Gordon Ramsey would be excited about, and that's fantastic. However, for the rest of you, cooking can seem like a time consuming and daunting chore that you would rather not do at all.
How to set up the ultimate man kitchen to cook like a pro
Be in control of what you eat
After long work days, the last thing you want to do is spend more time working in the kitchen, right? So what do you do? Go out for dinner? Order take out or pick something up that is pre-prepared? Seems like an easy way out of having to cook for yourself. Well, not so much. Relying on restaurant food and take out fare could actually be inhibiting your path to becoming a lean fit guy. Even if you think you are ordering healthy entrees, hidden fats, preservatives, sugars and salts are usually added for flavor and ease of consumption.
Get the  kitchen staples
So what can the average single guy do? Creating a kitchen that is welcoming and easy to use is a good start. There are a few staples that every man kitchen should have. All of these items can be found reasonably priced at local kitchen supply stores or even popular discount stores like Target. A wok is great for whipping up quick sautéed veggies or protein. Non-stick pots can be very useful in the kitchen for things like soups, boiling pastas or rice, making sauces and multiple other things.
Small, medium or large Tupperware bowls are great for storing leftovers or pre-made items you plan on eating throughout the week. Good cooking utensils (spatula, ladle, whisk, stirrers), and a good set of kitchen knives (or even just one really good paring knife) are also great for getting meals prepared.
Stock up on the basics, sauces, oils and spices
Once you get all these tools, the next thing you need are basic pantry items. Every man kitchen should always have extra virgin olive oil, salt and pepper (grinders are our favorites), balsamic vinegar, & brown rice (or quinoa). Olive oil, loaded with healthy omega fats and antioxidants, is a must for any healthy kitchen. You can use olive oil for marinating, sauteing and making quick & easy salad dressings. Salt and pepper is commonly used for just about anything (use salt sparingly).
You can make any meat extra special by simply rubbing some salt and pepper on it. Eventually, when you become more accustomed to cooking, you can incorporate more seasonings. Balsamic vinegar is great for adding flavor to salads as well as marinades. Organic brown rice or quinoa stores very easily and is always useful for making a meal complete (ie: rice and veggie stir fry). Once you have these staples in your kitchen, you can feel confident going into the grocery store and making just about anything. Keep in mind, the options are endless, so getting creative can make this cooking process much more exciting.