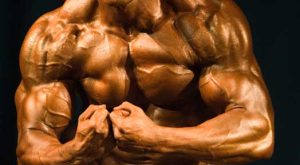 Even if you have absolutely no interest in becoming a bodybuilder there are certain tips and tricks you can take from their lifestyle and dedication to help your own fitness pursuits. We received special access into the life of one natural bodybuilder as he layed out his training schedule and supplement protocol. The training is pretty straight forward as you will see below, as he uses several Intensity Techniques throughout the week. He claims it's the only way to ensure you are sufficiently taxing the muscle to failure.
So here's what his week looks like…
Monday – Hamstrings and Quads
Tuesday – Shoulders, Traps, mini-Chest workout (using FD/FS Technique)
Wednesday – Back
Thursday – Chest, mini-Hamstring workout (using FD/FS Technique)
Friday – Triceps, Biceps and mini-Shoulder workout.
Saturday and Sunday – OFF
He even includes "mini-workouts" for certain body parts. These workouts are only between 4-6 sets that specifically focus on areas that he is trying to improve at the time. They aren't designed to be an entire workout by any means. That would lead to overtraining. These mini-workouts stimulate the muscle for the second time during the week and still allow the body to recover.
As for supplements, he chooses his stack from a drug-free supplement company called All American EFX. Here is a rundown of the current supplements he is using…
K-Otic: insane pre-workout formula. about ½ of the scoop!
Kre-Alkalyn Creatine: a terrific formula that has ALL of the benefits, but none of the negative possible side effects. If you haven't read about it, you should.
HBM: I take 2-3 caps 3-4 times a day with meals.
Nytric Pro: 2 caps right before training. Major pump inducer.
Vita-Drive: simple, but effective multi-vitamin.
Gluta-Zorb: a glutamine product that he takes between meals 3x per day
He also told us he takes a BCAA supplement during his training session  and a Vitamin C supplement 3x per day. That's pretty much it. Very simple, but extremely effective.
So there you have it, an inside look of the life of a natural bodybuilder. Even if you are just a plain Joe you can still take this advice and incoporate a variation to help your muscle gain and fitness goals. Is it easy? Nope! But it CAN be done.