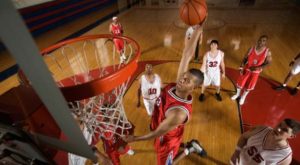 I wrote an earlier post about the NBA when it looked like the lockout was going to win and there wasn't going to be a season. Now that the owners and players union resolved their season it is in full swing. College basketball is also rolling along as teams are now in conference play. Who is your early favorite to win the NBA Championship and NCAA Tournament? I watched the game between Syracuse and Florida earlier in the year and wow does Syracuse look good. Coach Boeheim is coaching with a lot of controversy going on with the whole Bernie Fine molestation charges. In the NBA you have the new look Clippers gelling as they acquired Chris Paul and Chauncey Billups. Blake Griffin their all-star power forward nicknamed them "lob city" when they acquired Chris Paul. They have shown though that they are more than a highlight real as they are playing well as a team and getting after it defensively. The questions then is can they sustain it?
As the conference season churns along and teams start to vie for their seeding into the NCAA tourney the college game really heats up. We have games on almost every night which gives us sports fans something to look forward to even though football season is over. Does the NBA or college basketball season get you more excited? The NBA has crammed a bunch of games into the calendar to make up for the lock out. But will it diminish the quality of basketball as teams start to wear down? Do you count down the days for the NCAA basketball tournament and the office pool you will enter?
Either way, basketball season is in full swing and we have a lot of games to watch. Hopefully your NBA team is making you proud and your alma mater has a shot of busting the brackets. I leave you with a couple of questions. Who is the best guard in the NBA? Who is the best college coach in the game today? Keep your eye open for my picks in the comments section!