The most popular sport in North America is without a doubt football. Where does your passion lie; the college game or the pro game? I have determined that it all depends where you grow up, where your families' passions lie or where you went to school. If you grow up in Green Bay and have loyally watched your team in sub-freezing temperatures with a block of cheese on your head you love the NFL and love the Packers. If you grow up in Columbus, Ohio and have dreamed about dotting the i on the field you're going to really love the Buckeyes, THE Ohio State Buckeyes. Down South where football is a religion (and I mean college football) you are going to bleed your team colors, you are going to look forward to Saturdays in the fall and be planning your tailgate all week regardless if you even attended the school. The NFL was genius to embrace and promote fantasy football. It has taken this passion and allowed the biggest college fans to get excited about players and teams in the NFL.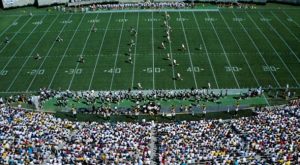 One of my best friends grew up in D.C. and is a huge Redskins fan. He did go to school at Florida though, and if I were to guess if his passion isn't equal – it might lean more towards the college game considering he has lived in Florida since he graduated. He has gone to dozens of games in the Swamp and been around tons of Gator fans, the religion of the south has converted him! There is a college talk radio station on Sirius/XM Radio, just listen one day to the programming and hear the callers' passion for the college game. It truly begets the full name of a fan; fanatic!
I am from Jacksonville, Florida and we were fortunate to get an NFL team in 1995. I was a sophomore in college and it was fun and exciting to go to the games on Sundays. Everyone in town was really pumped to have an NFL team. It helped put Jacksonville on the map. Truth be told one reason Jacksonville has such a tough time selling out the games is the size of the market and the topic of this post. Where is the passion?
Now 15 years later people will ask me all of the time "What's your favorite NFL team?" I tell them by default the Jaguars because I am from Jacksonville. I have no emotional capital though with the Jaguars. I want them to win, but if they lose it doesn't hurt. I am one generation ahead of the kids growing up with the team where it does hurt when their Jaguars lose. Now my Gators, my University of Florida Fighting Gators, that's another story. I am completely vested. When they lose it hurts. I don't want to watch Sports Center the next day or read the headlines. So it begs me to ask the question where is your passion?
It's pretty easy to discern where my passion lies. Where is your loyalty? Do you follow the Cowboys, America's team, with a great fan base and that is who you rooted for growing up possibly even going to games? Did you go to Nebraska with classy fans, great football and tradition? When you wake up on Sunday after your team wins are you quick to turn on Sports Center and hear the commentators dissect the game and tout your team as great? Or is Sunday a day you wake up ready for all the NFL analysis, you break out your team jersey and anchor down with a nice cold one? We want to know!
It's a fun debate and as I finish this post on a Saturday morning my Game Day is cranking up. ESPN College GameDay is about to start, my Gators play a huge game today and I definitely have a little pep in my step as I go about the day. Until next time, eat your favorite food and drink your beverage of choice on YOUR GameDay!