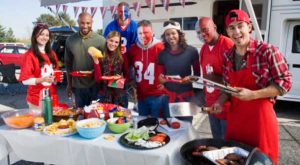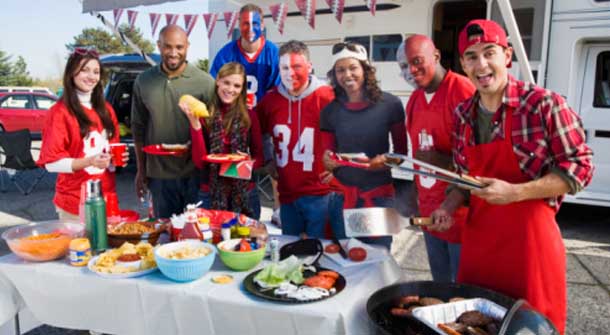 It has started! Football, Tailgating, Funday Sunday!! And sometimes even Monday's & Thursdays!
Ever since we became season ticket holders it's been a whole family affair!
Packing our cooler and preparing our snacks got me thinking. Is it really necessary to eat so un-healthy during these football outings?? Must we load up on the greasy grilling, cheesy nachos & fries, subs, chips, beer & more.
I am going to give you a peak into what you may find in my cooler on any given Sunday so that you too can hopefully think about what it is you are eating before & while you are enjoying your fave game. It really isn't necessary to consume 5000 calories and hundreds of grams of fat in one day!!
• Turkey Sandwiches or Turkey/Lean beef Burgers if we're grilling
• Low sodium ham, part skim mozz cheese, & roasted peppers on whole grain bread/Panini
• Chicken sausages for the grill with peppers & onions
• Cut up fruit & veggies with my honeylicious dip
• Low Fat Cabot Cheddar Cheese & Crackers
• Quinoa
• Pita Chips
• Soy Chips
• Nuts
• My yummy homemade Guacamole & Salsa
• My yummy Salmon Salad
• Water bottles
• Juice for the kids
• Light Beer ~ I am human after all
Don't let a fun day ruin your diet and damage your health. Unfortunately, the stats aren't getting any better. Diabetes is on the rise and obesity is killing. Both can be reversed with a little dedication and smart choices! Make today your day to make those right choices.