Best Bodyweight Exercises for Bodybuilding Beginners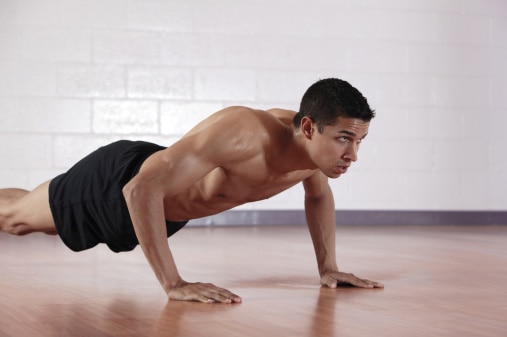 These days when you join a gym and pay the exorbitant membership fee you will see all types of expensive and impressive looking workout machines. But these fancy machines will not teach you the principle lifts that lead to the most effect bodyweight bodybuilding muscle gains. If you go straight to these fancy weight machines and only work your muscles to the minimum you will not put on any serious muscle.
Basic bodyweight bodybuilding exercises for impressive gains.
The key to the success of these basic bodybuilding exercises is they initiate neuromuscular stimulation and encouraging your muscles to grow. They do this by requiring the lifter to use multiple muscle groups simultaneously.
Core exercises
These core exercises that have proven themselves to work over the years are the necessary basics that will give anyone the foundation they need to build serious muscle. These basics are something that can easily be done at home in your garage or in a park or even in your spare room or your sitting room.
Plan your sets and reps
Selecting the sets and reps that you do is a lot less important than learning how to do the exercises correctly. Often people who do these exercises land up in the bad habit of just counting reps and getting the set done without concentrating and focusing on the specific muscle group that the exercise is working.
It is strongly advised to anyone who wants to put on some serious muscle that you make sure that you have these basics down and that you can do them well and know exactly how to isolate the specific muscles involved. Below is a list of these basics exercises that can and should be done with only your bodyweight to make sure that you know exactly how to do them. You will find that when doing these exercises on a regular basis that you will be able to pick up lots of muscle only using your own bodyweight.
Bodyweight Bodybuilding Exercises:
Lunges
Squats
Wide grip pull-up
Close-grip chins
Push-ups
Dips
Bicycle Crunches
Leg Raises
All of these exercises are a great way to demonstrate that you do not need to start off with weights when looking to put on muscle. You can easily train for a good year and put on some good quality muscle before you need to start training with weights in order to continue putting on muscle.
Get a solid training schedule
To get the best results you should train hard and intense for about 45 minutes three times a week. When doing the exercise correctly you need to always be looking to achieve the point of failure. The way to do this is to make sure that you are not just counting reps but that you are concentrating on the specific muscles that you are focusing on.
If you plot your workouts carefully you will be able to track your progress and know exactly how many reps you were able to complete on the last workout. When doing this you will be able to concentrate on doing at least one more rep to make sure that you are always increasing your strength and that will result in more muscle.
Most Recommended