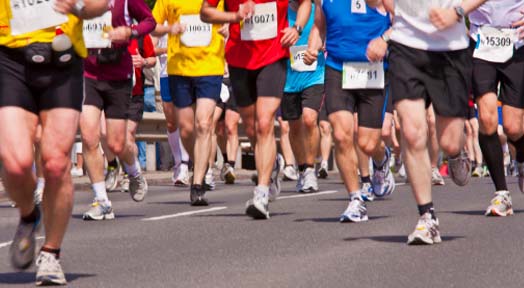 Whenever we hear someone mention optimal cardiovascular health, we immediately start thinking of some type of physical activity such as running or jogging. However research studies have shown that marathon running can actually promote undesirable changes within the heart muscles causing the heart to become enlarged. A situation which has been commonly observed in low level fitness enthusiasts and untrained runner.
Marathon Running and Heart Issues
Whenever a rumor circulates that a runner has died from a heart attack people are forced to consider whether or not these prolonged and strenuous activities are in fact healthy for the body. According to Dr. Julius Cuong Pham who is an associate professor teaching medicine at the John Hopkins University School of Medicine "Marathon related deaths are not re portable." In an interview he stated that Physicians are not bound by any known law to report specific information regarding a person's death during a marathon running to any of the local or health authorities.
Studying cardiovascular abnormalities
During a study conducted by the Canadian Journal of Cardiology, it was found that several competitors and sports enthusiasts were found to display significant signs of injury to the heart muscles and exhibit instances of cardiac abnormalities resulting from exercising for prolonged periods of time. This study was carried out with the hopes of effectively determining the level of stress the heart was subjected to during a marathon run and whether that impacted stress might result in long lasting and permanent damage.
The running test group
The research was carried out as scientists studied 20 amateur distance runners between the ages of 18 and 60 years who were scheduled to partake in a long distance marathon within Quebec. All 20 runners were previously tested and found to contain no known cardiovascular diseases nor were the subject of any treatment including any form of prescription drugs. Runners who had been active in any prior marathons in the last two months were excluded from the recruitment list and deemed ineligible for the study.
testing
The runners were again tested six to eight weeks before the marathon run, on the day the marathon was scheduled to run and again 48 hours after successfully completing the marathon. Specific tests included a range of blood sampling, and another MRI were performed on the runners. The Canadian researchers all suggested that this time frame was more than adequate to allow the body to achieve adequate levels of re hydration allowing the blood pressure and heart rate to return within normal levels after having completed the marathon and yet short enough for them to conduct the relative tests necessary to observe any notable changes in the myocardial values.
Findings marathon running
Researchers found that over 10 of the runners who participated in the marathon were found to display a significant decrease in both the left and right ventricular function resulting in increased swelling of the heart and a severe reduction in blood flow and circulation. It was noted in the study that these affected runners were runners who were low level less experienced runners who were lacking in adequate training and although the changes observed were of a temporary nature the injuries had the potential to put these runners at severe risk over a continual period of time.
How to protect yourself
The research concluded that persons wishing to participate in long distance marathons should be severely tested and suggested that promoters ensure that a minimal requirement be set to reduce the risk of injury to potential runners.