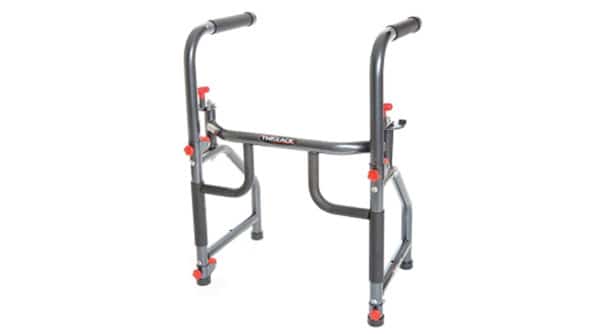 We've got the lowdown on The Rack – infomercial TV's latest foray into fitness gear, as well as what you need to know before you go in for the sale.
What It Is
The Rack is a pretty simple machine all the way around. It features a 1 ½-inch steel frame, multiple hand grips, and crossbars around the center. It can be turned and manipulated for a range of different exercises. It weighs 30 lbs. and folds flat for storage. Bought from the official website, the Rack comes with a nutrition guide, an owner's manual, a fitness guide and journal and seven DVDs. It may come with fewer bells and whistles if you buy it elsewhere. The Rack sells for $135 plus shipping and handling on the official website, and is currently $129 plus shipping and handling on Amazon.com. It is available in some sporting stores.
What It's Supposed to Do
The Rack is designed as an all-in-one gym. Depending on which way you turn it and how you adjust it, you can do a total of 19 different exercises, including sit ups, dips, curls, pushups, abs and rows. 5-lb. weight plates (which are specially made to fit the machine properly, and can be purchased through their site) can be added to the machine for weight lifting. The Rack claims to work 7 different muscle groups, and is meant to be a space-saving home gym.
Pros and Cons (based on reviews by actual users)
Pros:
• Lightweight, sturdy construction
• Folds flat and is easy to store
• Works in small spaces
• Workout videos are challenging and get results
• Premium construction option available for heavier users
• Great for core and strength training
• Great for dips, pushups
• Good for supplemental home training
Cons:
• Wheels (used for some floor exercises) are plastic and may break
• When bought from the official website, dealing with customer service can be a challenge.
• Positioning weights for curls can be awkward
• Lightweight structure can make sit ups difficult, as your feet may not be properly anchored
• Not ideal for serious "bulking up."
• May be difficult for taller users
• Not recommended for those over 300 lbs.
• Some assembly is required
Some notes:
If you're buying from the official website, be prepared for the "hard sell" of upgrades, extra weights and protein powders. To avoid extra charges, you may have to opt out of certain upgrades that are automatically selected for you (how convenient), so make sure you've reviewed all charges before you complete your order.