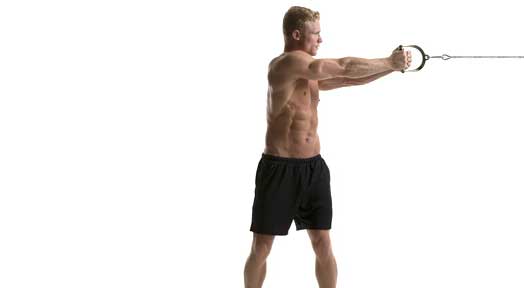 If your ab workout doesn't provide you results or if you are just bored with it, you should try our standing ab workout. This training routine will work the ab muscles from different angles and with various contractions, things which will help you develop the abs size and strength.
The standing ab workout is developed from the following exercises:
The Standing Pike Crunch
The standing pike crunch is a dynamic exercise that will work the upper and lower abdominal muscles. When you are doing this exercise make sure to keep the abs engaged, this will help you to squeeze them better through the movement. Also, extend your back slightly when you are raising your hands, but make sure to not overextend because it can put unwanted pressure on your spine. Do the standing pike crunch with a medium tempo. Do 3 sets of 15 repetitions each.
Opposite elbow to knee twist
an exercise that is slightly more difficult, but which is very effective for your abs. This movement will also work all the parts of the abdominal, but it will involve the oblique muscles also, which are very important if you want to have a real nice looking six pack abs. For the opposite elbow to knee twist make sure to use a medium tempo.
Do 3 sets of 10 repetitions each.
Cross chops
In a way this movement is similar to the elbow and knee twist, but it works on a bigger range, things which will make it to involve more muscles. Cross chops will work your whole core: abdominal, oblique muscles and the lower back. It is very challenging and complex, it can be done with a kettlebell, a dumbbell or with a medicine ball. For the cross chops use a slow tempo. Complete 3 sets of 8 to 10 repetitions.
Standing cable crunch
The standing cable crunch works the upper abdominal muscles. When you are doing this exercise be careful to contract the muscles on your way up and also on your way down, don't relax the abs in any parts of the movement. Do the standing cable crunch with a slow to medium tempo, don't rush the execution. Make sure to adjust the weight according to the number of repetitions you will have to do. Complete 3 sets of 15 repetitions each.
Hanging leg raises
this exercise will be focused mostly on your lower abs through an isometric contraction. While doing it make sure to not swing, try to keep your body stable through the execution.
Do 3 sets of 8 to 10 repetitions.
Do all the exercises from the program with proper form, this is a very important aspect. Doing them with bad form can lead to an inefficient workout and also can make you prone to injuries, thing which you must avoid 100%.
The exercises proposed in the standing ab workout besides the fact that they develop your abdominal muscles they will have a great impact on your core. A strong and muscled core will help you be free of any back pains.