Tips on Switching Gym Memberships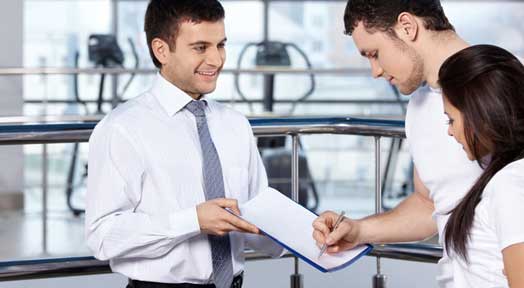 So. You heard about a great deal on a gym membership, and you went down to the gym to check it out. The oh-so-friendly gym people talked with woefully contagious enthusiasm about the results you'd get and the money you'd save.
Here are some tips for you when you are switching your gym.
They also impressed upon you, in no uncertain terms, that if you failed to act right that second—you'd turn into a miserable blob. Or you'd be doomed to mediocre results at exorbitant prices at some other sub-par gym. So you signed. Never mind the fine print. You're sure it will all work out in the end.
So you start going to the gym, and you discover that it's not what you thought. Maybe you're not happy with the trainers. Maybe it's crowded, or smells, or has outdated equipment. You've heard about a better gym, or found one closer to work, or for whatever other reason, you decide to quit, only to find out that you can't. You're under a contract, and locked into the fine print you didn't read. What's more, they have total access to your bank account, and will happily take out payments for the next 87 months or so.
Is there anything you can do?
Well, there actually may be a few options open to you. Depending on your contract and the state in which you live, they may or may not be feasible, but they're worth a shot.
1. Read carefully over your contract to see under what conditions you can quit.
Some gyms will let you out of the contract if you're moving and there's no gym location near your new residence, or if you are seriously injured or suffering from a long-term illness. In both cases they may (and probably will) require proof.
2. Find out whether the gym has a cancellation or exit fee.
This fee may be cheaper than finishing out the contract.
3. Research your state's consumer laws.
In most states, there's a 3-day "cooling off" period, where you can back out of your membership without penalty. In some states the amount of time you have to back out goes up depending on the cost of your membership.
4. Document legitimate problems with the gym.
If it's dirty, has faulty or dangerous equipment, you don't have the access to classes and equipment you were promised, you are being overcharged, or you are being charged in spite of quitting within the stipulated trial period, take note. Document everything carefully, then present your case to the gym's owner or lodge a complaint with the corporate office. If your complaints go unheeded, advise them that you plan to take up the issue with Consumer Affairs and the Better Business Bureau.
5. Send any intent to cancel in writing by certified mail, even if your gym allows you to cancel online or by phone.
Keep a copy of your letter for your records, and make sure you get written notification that your account has in fact been cancelled from the gym. That way, if they continue to debit your account, you will have proof to give to your bank that the charges are not legitimate.
6. Give notice at least 30 days in advance.
Many gyms have fine print that allow them to pile on fees if you don't give them enough notice. In the end, you do have to accept that, unless you can prove that the gym breached the contract or acted dishonestly, you may have to eat the costs. You signed on the dotted line, after all. Always read contracts carefully before signing them. And, unless you want your credit ruined, or you enjoy being hounded by bill collectors, don't cancel your automatic debit. Instead, deal with the problem directly.
Most Recommended