Cheerleader Workout For Guys Program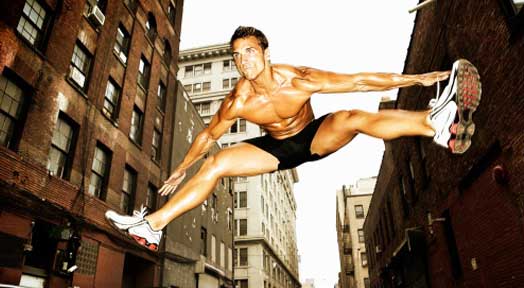 Awhile back, there was a t-shirt slogan that became pretty popular among the cheerleading set… it said, "If cheerleading were easier, they'd call it football." The point, of course, was to draw attention to the amazing athletic ability cheerleaders must master to be any good at what they do. But the statement was also a challenge to any fitness-minded person out there to see if they could rise to the athleticism of cheerleading in their own fitness pursuits. Involving elements of gymnastics, dance and pure strength training hence the was born cheerleader workout for guys. Cheerleading is arguably one of the most well-rounded "sports" out there.
The cheerleader workout for guys
It requires flexibility, balance (core strength), coordination, and explosive muscular power to complete the various tricks and stunts that cheerleaders make look effortless. However, even those that don't cheer on the home team can find some real advantages in incorporating aspects of a cheerleader workout for guys.
Be Lean and Mean:
A few years ago there was a movie character that said, "In cheerleading we throw people into the air. Fat people don't go as high." Though funny, this philosophy is powerful advice to any athlete. Carrying extra weight around only makes you slow, inefficient, ineffective or otherwise less than you can be. Even if you're a world-class body builder, you need to watch your diet to make sure your calorie intake is grounded in lean proteins like turkey, fish and soy. Yes, you need calories to build larger muscle, but they have to come from the right source.
Might as Well Jump:
Eddie Van Halen and David Lee Roth were really on to something almost 20 years ago. Incorporating more energetic movements into your workout are safe, smart, effective ways to build muscle strength and increase range of motion – not only essential in cheerleading but also in sports like basketball, football, swimming, and track and field.
Become Your Biggest Fan: cheerleader workout for guys
Nothing pushes you further in the gym than your own mental determination and will to succeed. Explore ways to tap into your own mental toughness, break through plateaus or refuse to accept mediocre effort. A runner on staff here swears by listening to The Prodigy during distance runs because the driving beat never stops and music's edge has a "no wimps allowed" feel to it.
Other people join fitness tracking sites like MapMyRun.com which not only tells you when you've missed a workout, but also shows you what fellow members accomplished while you hung out on the couch. Root yourself on to victory with the same fervor as any cheerleader and you'll find yourself capable of feats you thought would take a lifetime to attain.
Most Recommended