Pre Party Pump Workout to Look Ripped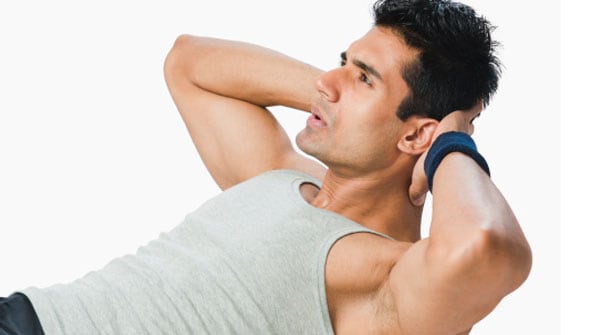 Some guys swear by doing 20 pushups as their pre party pump workout to look ripped before heading out for the evening. Others won't leave the house without hanging from their inversion bar and doing some full body reverse crunches. The reason being they believe it helps them to look "more ripped" than if they'd just taken a shower and gotten dressed. Hey – we applaud the effort no matter why you're doing it, but there are a few moves that deliver more bang for the buck when you're in a time crunch.
The Pre Party Get Ripped Workout
– Strength/Cardio Combo:
Work your biceps, back and legs at the same time by combining alternating lunges with a smooth controlled bicep curl. Keep those elbows locked in place just behind your hips and make sure the bicep is doing all the work. Get as deep into the lunge as you can and keep the motion smooth and fluid.
VISUAL IMPACT: Biceps will get that muscle pump look, thighs will temporarily tighten and buttocks will look more lifted.
– Core Kick Back:
Engage all your abs while increasing circulation and endorphins with some powerful core-focused plyometrics. Try plank splits – hold yourself in push-up position and jump both legs out to the sides and then back in to center. Or, try mountain climbers – holding push up position while jogging knees in one at a time with a bit of a jumping motion.
VISUAL IMPACT: Abs will look a bit more cut and your posture will improve – making your chest appear larger as well.
The thing to remember with any pre party pump workout is that if you include some cardio aspect, you really get the blood pumping which gives you a boost of energy and those feel-good endorphins for confidence. So make sure you perform any exercise long enough to get your heart pumping a bit too.
Most Recommended