Exercise Training Tips You Should Add to Your Routine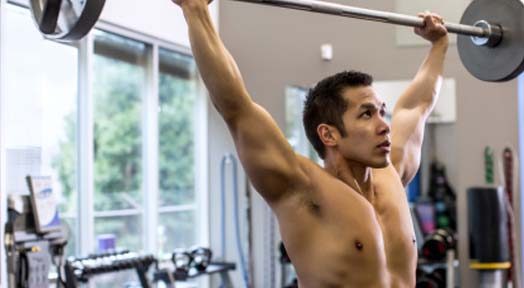 There is a vast amount of information one can find with respect to specific exercise training tips of champion to successfully build stamina, muscle mass, flexibility and even weight loss and workout motivation. However the truth is, there is no magic formula available to attain the set goals to improve a person health and strength. There are however a few training tips you can implement into your daily routine to successfully help you safely get in shape, minimizing any possibility of injury while staying motivated.
Exercise Training Tips of Champions
Set a Training Time that Works for You
One of the dawning questions we've all asked ourselves is "When is the right time to exercise?." The truth to this question is…there is no right time to exercise. The time taken to complete an exercise routine relies solely on the individual and the physical state of the person. Many exercise enthusiasts will tell you the best time to run is in the early morning, whereas others will tell you they prefer the evening because it can help tire them before bed. It's best to find what works best for your body and your schedule so you can stick to it. If you are concerned about timing there is one time a person should wait to exercise and that is after a full meal. You are most likely to experience severe stomach cramps, nausea and some levels of discomfort if you don't allow yourself to digest properly.
Snacking before exercising.
While you don't want to workout on a full stomach it is perfectly normal to have a small snack before you start your exercise routine. Such a snack can include a small piece of fruit or a drink, provided they are not high in sugar content such as those found in sodas. Having such drink like a soda filled with calories before a workout may initially provide the person with a temporary boost during the workout, but beware of the inevitable sudden and unavoidable slump which is sure to follow. Most exercisers will generally recommend foods with a high starch content like a slice of bread or a banana to keep the energy at a constant level during the workout.
Warm Up
Warming up before exercising is an essential routine which should always be maintained before every workout. Without a successful warm up the muscles are less prepared for the workout and thus more prone to injury. The warmup should start with gradual slow movements such as walking and increasing the intensity towards an easy jog. By warming up between eight to ten minutes will allow the body's muscles stretched for a more intense workout ensuring the muscles are oxidized to produce energy to achieve a better workout.
Don't forget about Cardio
Including an aerobic or cardio activity during your workout will allow the larger muscles of the body to attain a rhythmic pattern continuously during the workout. Otherwise known as a type of endurance activity aerobics have been known to provide the exerciser with improved lung functions and better health. Some of the more common forms of aerobic activities include, cycling, running, swimming and walking. Such activities play a vital role in burning of calories, weight management and control and cardiovascular health.
Hit the Weights
Lifting weights or any other form of strength training involving short energy bursts allows the user to burn calories and increase muscle mass and overall strength. Some of the additional benefits of strength training includes strengthening joints, increasing bone density, improving balance, posture, flexibility and posture. Strength training allows the user to manage everyday tasks at an effortless rate as the increase in muscular mass allows the body to burn fat at an increased rate thus promoting and maintaining additional weight loss. So remember always train like a champion
Most Recommended