Blackhead Zits How To Get Rid Of Them Quickly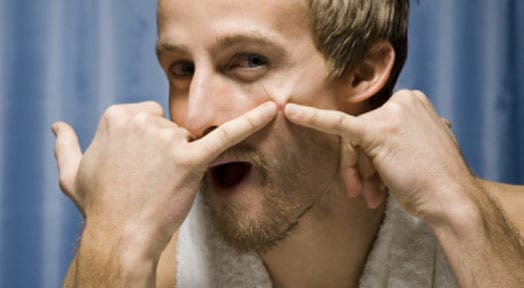 All men have at one time or another suffered from nasty blackheads that cover the surface of the skin. Generally, blackhead zits come from bacteria that build up in the pores which then get blocked and the result is a blackhead. Because dirt, skin, and oil all cause blackheads it is important to keep pores clean. However, it is important to know how to properly clean pores to prevent and remove blackheads that already exist.
How to remove those unsightly black head zits
Wash your face: blackhead zits
The first step in removing blackheads is to wash your face. There are several different scrubs out there for you to use however, one of the best is a standard household item. Baking soda is terrific for exfoliating and gently removing dirt that is deep inside pores. Simply use a small amount of the powder mixed with water to create a paste and apply it to your face. Use a wash cloth with warm water to wipe away the dirt and finish with cold water to seal the pores back. Blackhead zits, A good recommendation is to use baking soda to wash your face once or twice a week rather than on a daily basis. For daily washing it is recommended that for blackhead prevention you use a standard daily face wash to keep your skin free of surface dirt.
Salicyclic acid
If you find yourself suffering from a single blackhead zit that you have the urge to pop resist the urge and follow our advice. After you wash your face with a mild medicated soap as referred to above, dry your face thoroughly and then apply salicylic acid to the zit and apply a moisturizer over the skin. Unfortunately, it takes time for your skin to heal and push out the dirt and bacteria that have accumulated in your pores so be patient and remember there aren't any real quick fixes for zits.
Keep up your cleaning routine: blackhead zits
Men who are manly recognize the importance of taking care of themselves. Confidence comes from within and even zits cannot take away how you feel. Just remember to keep up with your facial cleansing routine and treat worrisome spots as soon as possible to rid them from your skin and blackhead zits shouldn't be a major problem for you in the future.
Most Recommended