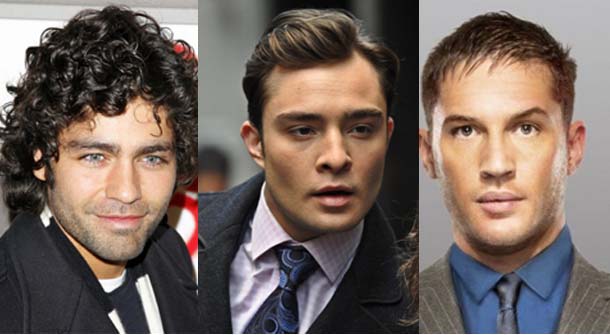 Men's hairstyles says a lot about who a man is, your personality and your fashion sense so choosing the right one can be crucial. The days of a simple "comb and go" mentality are gone replaced by the ultra hip "metrosexual" movement where looking fashionably put together is practically a requirement in social and business environments. However, finding the right hairstyle among the many hot men's hairstyles doesn't have to be difficult, so we've put together a short list of the top men's hairstyles looking to make an appearance when the new year comes around the corner.
The hottest men's hairstyles
The Retro Look
Including retro hairstyle favorites such as pompadour and the quiff, these 1950's inspired hairstyles are all the rage and looking to last well into 2013 as a staple men's hairstyle. The look is best for men who have a distinctive fashion style that is reminiscent of the "hipster" look without going too over the top. It doesn't generally go well with a personal style that is run-of-the-mill or too straight-laced; think leather jackets, skinny jeans and rock & roll vibe.
The Mohawk/Fauxhawk Look
Though this hot men's hairstyle isn't for everyone, it does lend a certain confident, edgy fashion forward look that can set you apart from the crowd. It looks like this men's hairstyle for 2013 won't be as overly dramatic long-haired Mohawks seen in eras past, but a shorter, more conservative look is very popular. Whether you choose to go with the traditional Mohawk that has the sides shaved and the top long-ish or the fauxhawk that sculpts the hair on the side back and pushes the top hair upwards, the men's hairstyle is definitely a look to remember.
The Cropped Look
This is a popular hairstyle that is often chosen by men who want a little edge to their look without going with a overly complicated or dramatic look. The hair is cut short with usually only about an inch or so of hair on the scalp with the front having a slightly longer look, similar to the male version of short bangs and no discernible part. It is a no-fuss hairstyle that can be quickly styled with little to no hair product, achieving an effortlessly cool look that is suitable for everything from a business office to a night out at the club.
The Naturally Curly Look
For a number of decades men have tried to tame their boyishly curly hair into a more respectable and "adult" look, but this year that naturally curly look is in fashion. The men's hairstyle looks best with longer as the curly strands often stay close to the head and give a messy styled look with minimum fuss. This one works best for men who have a natural curl to their hair that is a bit more than just wavy.