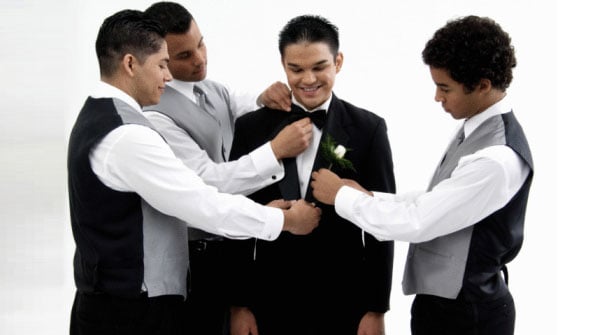 Wedding planning commonly is focused around the bride's appearance more than the groom's. However, every groom wants to look his best on his wedding day. The last thing a groom wants is irritated skin, razor bumps, or other grooming problems to jeopardize his confidence and comfort on his wedding day so we have put together some male grooming tips to help out.
Consider these male grooming tips to plan for the big wedding day
The last thing a groom wants on his wedding day is razor burn or bumps. In order to prevent these common problems, the groom may want to use a lubricant or pre-shave guard before using shaving cream. A shaving lubricant softens coarse hair and protects the skin. Men shouldn't wait until the big day to develop their grooming plan for the wedding. Try the lubricant in the weeks before the wedding to determine if the product you chose is effective to prevent shaving problems.
Get a modern hairstyle
An outdated hairstyle is a problem many men have. Many men get attached to a hairstyle that may have been stylish once upon a time. Though the style looked good in the past, the old hairstyle is not attractive today. If you haven't changed your hairstyle in ten or twenty years, it's time to visit a salon for an updated look.
Bust out the tweezers
Overgrown eyebrows are a very noticeable issue that is easily remedied. If the eyebrows lack separation in the middle, the man can use a tweezers to pluck the hair between the eyebrows. This is one of the simplest male grooming tips that can make the most difference in giving a man a more polished appearance.
Unruly or bushy eyebrows can be tamed with some simple male grooming tips for eyebrows. A brow gel or wax brushed onto the eyebrows hold the hair in place. This prevents the stray hairs that give the appearance of bushy, out-of-control eyebrows. Eyebrow gels and waxes can be colorless which is ideal for men.
Get a mani/ pedi
Another easy male grooming tip is to make sure the nails are clean. Depending on the man's occupation or hobbies, keeping the nails clean can be an ongoing problem. In preparation for the big day, a groom may want to visit a nail salon for a basic manicure. Other male grooming tips for hands include using a gritty cleanser to clean dirt and grease from the hands and moisturize regularly and especially after using any harsh chemicals or soaps.
Whatever male grooming tips the groom decides to use, he should try them ahead of time and judge their effectiveness. Trying new styling products, shaving products, or a new hairstyle in advance gives the groom the opportunity to make adjustments to the male grooming tips to be used. With a little planning, the groom can be ready to look his best on his wedding day and avoid any grooming problems.