Scents Women Love On Men When They Wear Cologne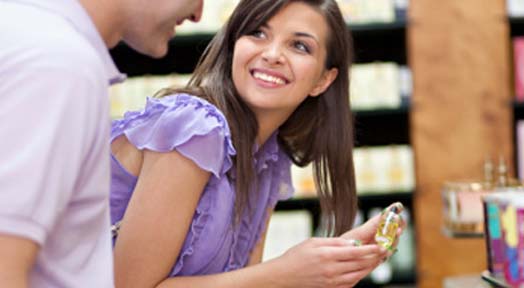 Scents women love on men, you open the door to your home after a long day at work, and you immediately smell apple pie. It's not in the oven though. It's your wife's new body lotion. No problem. As nice as apple pie sounds, the smell made you want to take her straight to the bedroom anyway, and the pie would have ended up burned. That's just how it is for guys. Sweet, desert type smells like apple pie, vanilla, and coconut really get us going. But what about women? What scents drive her wild?
Check out what are those scents women love on men
Musky scents
Women are attracted to a musky scent. That's why many of the most popular colognes aren't designed to smell like chocolate or flowers. She'll be happy if you bring those home. But she wants you to smell, well, more manly than that.
Summery Blue Scent
Things change a little in the summer. It's not that she doesn't like musky scents anymore. It's just that there are certain scents that seem to go better with summer. That's why most designers have a separate summer cologne. For example, Dolce & Gabana makes plenty of musky smells for men like The One. But they also have a summer scent, Blue. Another example is Kenneth Cole. Black is their signature musky smell, but reaction is their summer scent. The difference in both cases – summer scents usually focus on citrus. It's surprising, but citrus scents seem in general to be quite arousing for women.
Make a good lasting impression
Smell is very closely connected to memory, so what is considered pleasant or vile will change from person to person based off of experience. But there are certain universals, and designers are constantly searching for the perfect combination to make you pick their scent. Just remember that the one you like the most may not necessarily be her favorite. It may be a good idea to bring your girl with you when you go fragrance shopping.
So the next time you flip open a men's magazine and there is a cologne sample in a stuck down flap, remember that there is a lot of science behind choosing the right scent. Before running out to buy one you really like, or tossing away a magazine because you find the smell offensive, check and see what she thinks. The answer might surprise you, especially once it's on your skin and has a chance to react to your unique chemical makeup.
Most Recommended