Best Men's Dress Shoes for Cold Weather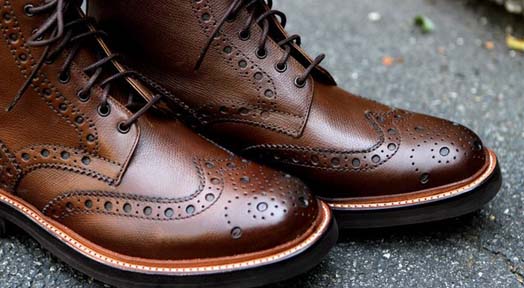 Best men's dress for shoes cold weather. Unfortunately, the winter season is upon us and with the dip in temperature comes a change in wardrobe like men's dress shoes. But one area most guys forget they can use to up their style game is their feet. That's right, your shoes are one of the most important areas to showcase your style and attitude. Winter is the season of footwear and while you want to keep the ice and snow out and the heat in you can still look nice doing it. For the most stylish shoes for men in winter consider our list of the top five best men's dress shoes to wear this winter season.
Best men's dress for shoes cold weather
1. Cole Haan Boothbay Plain Oxford dress shoes.
Sleek, stylish, and a bit on the hipster side these costly shoes ($215 a pair) are perfect for the cool Autumn/Winter months. They come in various colors and have a jean like exterior material that covers the surface of the shoe. They are perfect for relaxing yet sophisticated for office job and will be a hit for men who love to retain their individuality while still working their day job.
2. Grenson Fred Brogue Boots.
These are both functional and form fitting for the man that wants to avoid an embarrassing spill during his outdoor activities in winter. They fit perfectly under a pair of slacks and come in black and brown. They incorporated a wedge to make the shoe slip proof and stylish at the same time. If you have the cash to lay down for these workman shoes get ready to count the hundred dollar bills because they are priced at $505 this winter.
3. Florsheim, Duckie Brown Saddle.
Want to look office ready with a classic style while staying warm in the winter? Then these are the perfect shoes for you. They have classic lines and a polished and rounded toe to smooth out your look and compliment your dressy wear. You can add them to virtually any winter outfit without looking over-styled or under dressed.
4. Paul Smith, Tudor Boots.
Can't help but join the style fetish that is sleek black, boots? Then consider investing in a pair of these babies. They are classic and hot this season for men of all ages. They may not prevent much in the slip proof department but they do offer a stylish alternative to high boots. If you find them slightly too British or girly for you then wear them under your slacks for a manlier look.
5. George Esquivel French Calf Shoe.
These are the perfect fall/winter shoe for all your classy dress shoe needs. They are extremely expensive (at $650 a pair) and are the ultimate in classy. You won't need to wear any other shoe to the office this year when you grab a pair of these. You can be sure that every shoe is high quality as they are all handmade by shoe artisans in southern California. If you want a luxury winter shoe this is it.
Obviously, if you find yourself in need of a more practical and less expensive pair of shoes this season consider some of the less costly items available like Asos boots priced at $99 or ankle boots for around $60. Whatever you go with the primary concern is comfort and warmth throughout the winter season.
Most Recommended