Swimwear Guide For Different Body Type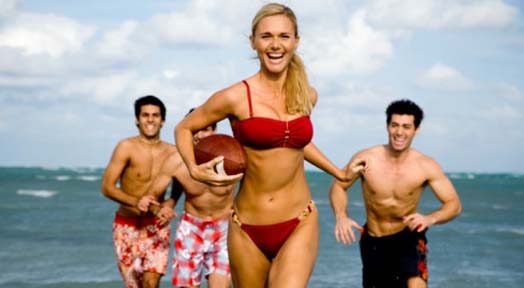 Guys guide to swimwear. Men's swimwear may seem simple, but there is a very fine line between socially acceptable and fashion victim. You may be tempted to trust your instincts, or do like the locals do, but there are some pretty strict rules you should intend to follow when it comes to swimwear.
Guys guide to swimwear
Rule #1
No Thongs, Ever. Really, there's no reason for men to show that much posterior. If for no other reason, the possibility of a butt-cheek sunburn or having to ask someone to properly sun block your behind is enough to keep thongs where they belong – anywhere else. We assure you, no soul on Earth cares THAT much about whether you have tan lines. And unless you're an Olympic swimmer or diver, just say No to the Speedo, too.
Rule #2
Activities Matter. If you're going to be playing beach volleyball or engaging in a friendly platform diving competition, some tighter-fitting trunks may be a smart idea. If you're just chilling in the pool or if you're sporting a beer gut, you might want to opt for something more traditional and less "flair."
Rule #3
Extras? Who Needs 'Em? Pockets, belt loops, inner mesh lining… these options all depend on your personal style and the practicality of what you're wearing. You won't typically see open pockets on board shorts since one wipeout is all it takes to empty them. Similarly, you won't see metal zippers that can' crust up and cease functioning after exposure to salt water. Belt loops make sense if you want to transition from day to a casual evening without changing shorts.
Slip on a belt and a short-sleeve button down shirt and you're ready to go. Even without donning a belt, shorts styles with belt loops have the closest fit to trouser or walking shorts since there is no elastic in the waistband. The inner mesh lining is a purely personal decision and depends on how much support you prefer. Be prepared for a limited selection if you prefer mesh as it often appears only in elastic waistband styles. A way to work-around this reality is to buy a neutral colored (gray, black, beige, brown, white) pair of swim trunks (the tighter fitting kind) and wear them beneath the bigger board short of your choice.
Most Recommended