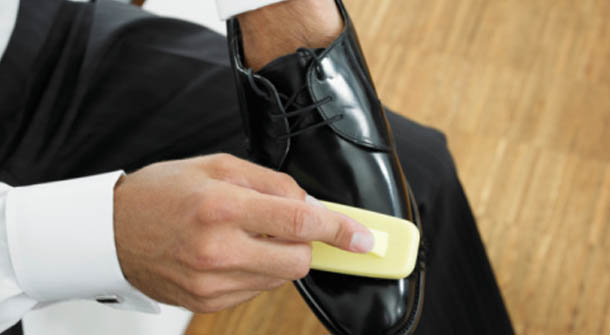 Your accessories like shoe care can say more about you than your clothes. This is especially true of your shoes. A quality, stylish, well-cared-for pair of shoes tells everyone from a prospective boss to a first date that you're put-together, sophisticated and detail-oriented, and that you take pride in your appearance. Shoe care is also a good investment; quality dress shoes aren't cheap, and extending their life is wallet-friendly in the long run.
Here are three things you should do to get the most out of your formal footwear.
Apply Weatherproofing
Quality dress shoes are typically made from leather. This natural material gives the shoes softness, luster, and a rich feel. But it also makes them vulnerable to the elements in a way that shoes made with synthetic materials aren't. Exposure to water from snow or rain can cause leather to expand, harden, stretch, discolor or even crack. Before you even take your first stroll in a new pair of dress shoes, spray them with a shoe protectant spray. These sprays are affordable and can be purchased at high-end shoe stores, in drugstores, and online. They coat shoes with a waterproof seal, usually made from silicone, which keeps them dry in any weather. Another option is plastic or rubber shoe covers, which can be slipped on over your shoes.
Make Friends with your Neighborhood Cobbler
Cobblers are still around, and still highly useful when it comes getting the most value out of expensive dress shoes. You'll typically find that some luggage and leather goods stores have shoe repair services available as well. Most quality leather shoes have quality leather soles, which need protection from the elements as well. For a minimal cost, a cobbler can add a protective rubber coating to your soles, which will keep them from wearing out. They can also add rubber pieces to soles that have already worn in places or replace soles entirely – a solution that's still far more cost effective than buying new shoes. Cobblers can also repair deep scuffs or scratches, and touch up serious color damage that can't be fixed or glossed over with polish.
Perform Routine Maintenance
Wipe your shoes down at the end of the day. Clean them regularly with leather cleaner, and let them dry thoroughly. Polish your shoes regularly. Cream polishes make the best choice; they absorb into leather, which conditions it and helps it breathe. Polishing also fills in all of the tiny nicks, scratches and scrapes that occur from everyday wear and tear. Occasionally applying leather conditioner to your shoes is another way to add to their life span and help them stay supple and soft.
Store your shoes in a warm, dry place, and use shoe trees to help them keep their shape. Don't kick your shoes off (no matter what kind of day you've had), as it can loosen the soles and strain both the leather and the stitching. Take the time to loosen the laces and slide them off properly.
One final tip for the guy-on-the-go: when bringing your shoes on a trip, place them in their box, complete with paper stuffing, or place each one in a shoe bag or a thick wool sock to avoid them being crushed or scratched. Just a little shoe care can go a long way in extending the life of your favorite pair.