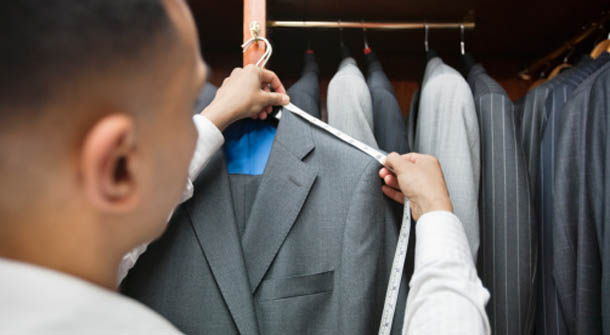 Rules to live by when purchasing a suit. When they say the suit makes the man… they mean it. A well-fitted and styled suit can make even the most down-trodden men look like a million bucks if done right, but a badly fitted and styled suit can make even the wealthiest of men look like paupers. If you are in the market to buy a new suit, here are 6 rules that should always be at the forefront of your mind when purchasing a suit.
Rules to live by when purchasing a suit
Rule #1: Just Because it's Affordable Doesn't Mean it's Cheap
In years past a well-made suit cost a pretty penny and the only good kind of suits were the tailor made ones. However, as modern technology has increase the rate of production while ensuring a better quality at the same time, well-fitted suits can be found all over the price spectrum from $200 up to several thousand dollars.
Rule #2: Know Which Style Works Best for Your Body
There are a number of styles of suits from two-buttoned one to double-breasted and more. For example, a shorter, more rotund man might find that a three buttoned suit makes him look disproportionate in the suit. Understanding how you body looks in each of these will help you find the best one that makes you look tall, slim and debonair.
Rule #3: When in Doubt Wear a Light-Weight Fabric Suit
Heavy fabrics can add pounds and girth to a man, taking away from the handsome and sophisticated look that it might of otherwise had. So, unless the suit is meant for a cold winter, light-weight suit fabrics are the best choice to give you the right look without added bulk to you frame.
Rule #4: Be Wary of Overly loud Patterns
A suit fabric pattern may seem like a small detail in the grand scheme of things, but wearing vertical stripes when you are already a very tall man can just add on the height and make you look like a string bean. The same can be said for shorter men with a larger stomach, busy or loud patterns can draw attention to the waist while a solid, darker color would have slimmed down a shorter, rounder man's frame.
Rule #5: Pay Attention to the Pant Rise
The cut of the pants can either add or take away from the overall length and shape of a man's body and if the pant rise isn't the right length it can throw off the whole look of the suit. For taller men, a longer rise (the distance from the waist to the crotch) can help to establish proper proportions for your body.
Rule #6: Know Where You Fall on the Vent/No Vent Issue
A general rule of thumb when purchasing a suit is that unless you have a larger behind, choose either a single vented suit jacket or no vent at all. Vents provide airflow, but they also provide movement that can detract from a larger butt, so if you don't have this the designer and you as the customer are wasting added material/effort as well as money to get a feature that you do not need.