Best Suit for Every Man Body Type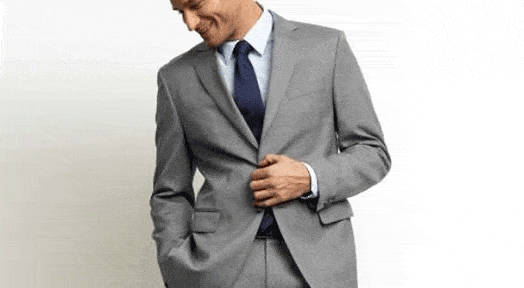 Men's suits for every body type. A suit can take even the most casual of men and make him look a dapper James Bond if it is the right suit for his body type. Coincidentally, an ill fitting suit for a man's body type can make him look like he's just put on daddy's suit for a little game of dress up. How to pick the right suit and look like a million bucks. Knowing the type you need for your body type can help you to look like you were born to wear a suit without even trying.
Men's suits for every body type
Stocky/Big Boned/Overweight
For this kind of body type dark colored are the best with solid fabric patterns. Don't go for striped or plaid fabric options as they will only enhanced the stockiness of the body. Choose three piece that are longer in length for the jacket as it will help elongate the body and smooth out the areas that are overweight or bulkier than the rest. Stay away from three piece suits as they will only add to the bulkiness of the body. Choose a tie that elongates your body as well such as a longer, thinner tie in brighter colors to offset the dark colors of the suit.
Tall & Thin
For men who are very tall and very thin a suit worn incorrectly can make you look even taller and skinnier. Stay away from bold striped as they will only enhance your body type in the wrong way; make your look like a tall and thin string bean instead of a handsome man. Shorter and two buttoned jackets are the best choice as three buttons will emphasize your height the right rather than minimize it. Three piece are fine, but keep in mind that the fabrics and color choices will either add to your height or detract from it. Choose medium to dark tones for the suit, such as blues, blacks, dark greys, etc.
Short & Skinny
Men who are shorter, but skinny have a far bit of options on the suit front from three piece to two buttoned jackets. However, shorter men should look for striped suit fabrics as they are the best at helping to give you the appearance of a taller frame. Color tones are pretty much open for short & skinny men, from light fabrics to dark tones, so let yourself embrace a full range of color when it comes to your suits.
Muscular
For men who have trained their bodies into well honed machines, we salute you and want to let you know that you're going to require a custom made suit. Your muscular frame just won't be emphasized to perfection with an off the rack suit as it will be tight in some areas and far too loose in others. However, you've got the pick of the litter when it comes to fabric types and colors from light to dark or solid to striped, but stay away from plaid as it's not your friend.
Most Recommended