Sweat Proof Clothes for Men This Summer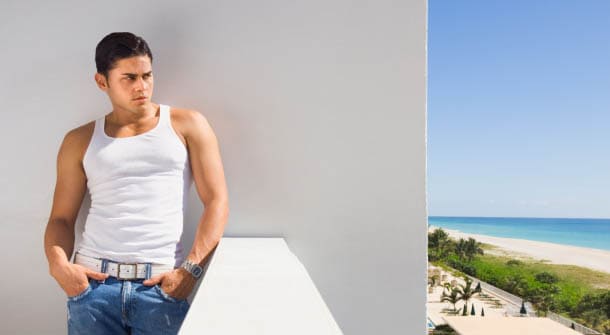 Nothing is more unattractive and uncomfortable than having sweat-drenched clothes during a hot summer party or during a round of golf. It can even take the enjoyment out of your hobbies and activities since you spend more time trying to dry-out your shirt and pants and spraying on cologne than doing what you wanted to do. If you are looking for a way to find sweat proof clothes for summer, you won't have to go through the aggravation of sweat marks, and unpleasant body smells; just make a few smart clothing choices and color decisions. With a little bit of discernment, you won't have to make a sweaty impression on your shirts, your friends, or your lady this summer.
Sweat proof clothes for summer
Choose Light
Color

Pallets

The first things you need to do when looking for sweat proof clothes for summer is steer clear of dark colors and shades. Just like with cars and patio furniture, a dark colored material will pick up heat faster and with greater strength than a lighter color. Wearing black in July is sure to get you sweating like a cold beer on a griddle. Save yourself the body fluids and wear something brighter to reflect the sun rays and keep you cooler for a longer period of time.
Avoid Artificial Fibers and Clothing Materials
There is one serious problem with artificial fibers and clothing materials – they don't let the skin air out and ventilate. Polyester and cloth made of artificially blended materials can make you appear more profuse with sweat. On the other hand, cotton, linen and other natural fabrics keep the skin airy and ventilated. So long as your skin is given room to breathe, you can let any sweat you produce evaporate before it collects on the skin in pools.
Wear Loose-Fitting Clothes
Tight and constricting clothes may give your body a more shapely look and show off your muscles a little more, but if they also leave you with dripping sweat marks, it will all be in vain. Play it safe and wear a shirt one size bigger than your actual body size. It is an excellent way to sweat proof clothes for summer and doesn't detract from your overall appearance too much.
Wear an Undershirt
If you simply must wear a sexy, fitted black polyester polo to a summer occasion, then there is one more sweat proofing tool at your disposal. By wearing an undershirt, you can still get sweat proof clothes for summer without having to make severe changes to your normal wardrobe. An undershirt can help soak up any excess sweat on your body and keep it from showing up on your main shirt. In other words, you can still look strapping and smashing without getting sweat marks up and down your shirt.
Most Recommended