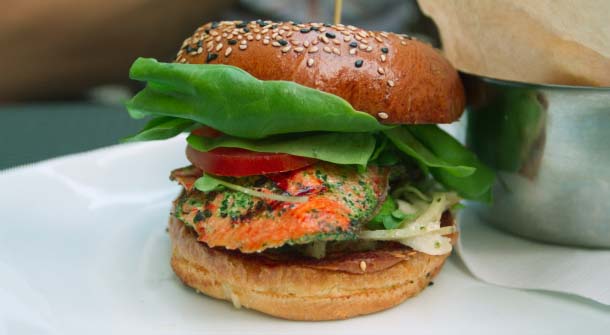 It's always a good time to dust off your grill and fire it up for some good healthy grilling. One great way to get more Omega 3 in your diet is, you guess it… fish. But if you are tired of the same old filet of fish mix it up with salmon burgers. Check out Arctic Char Salmon Burger recipe that is sure to be pleasing to your diet and your palate.
Arctic Char Salmon Burger Recipe:
Ingredients:
• 1 llb. cooked salmon filet (skin off)
• ½ Cup Panko Japanese Bread Crumbs
• ¼ Cup Scallions diced
• 3 eggs whites (beaten)
• 2 tsp. lemon juice
• 2 tsp. Dijon Mustard
Method:
• Heat grill to medium high heat
• Flake Salmon in small mixing bowl
• Add the bread crumbs, scallions, egg whites lemon juice and Dijon mustard and mix all ingredients into salmon
• Make mixture into 4-6 patties
• Brush burgers with olive oil
• Put down a layer of aluminum foil on heated grill
• Place burgers on foil and cook 3-5 minutes per side until heated throughout or internal temperature reaches 135 degrees
Place on a toasted wheat bun and top with avocado, lettuce, onion and tomato and serve with grilled veggies or oven baked fries. Enjoy with a cold light beer or white wine and violá you have a healthy grilled meal without the guilt.