Filet Mignon with Grilled Asparagus Recipes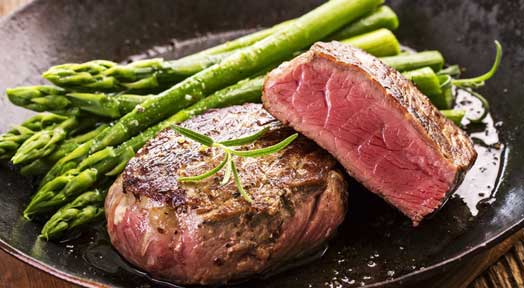 Living in a fast paced, fast food nation it's no wonder why obesity is at record levels in the US. Mensfitclub is doing our part by helping men find recipes that are healthy, easy to make, and easy on the pockets. Join us for our Health Fit Recipes for Men mission where we teach everyday men how to make a real meal. Here is a recipe especially for our meat lovers… filet mignon with grilled asparagus. Filet is the leanest cut of the beef you can find on the market and when you pair it with asparagus you have yourself a delicious healthy meal that's super easy to make.
Health Fit Recipes for Men – Filet Mignon with Grilled Asparagus
Ingredients:
Filet Mignon – 6-8 oz. (to save money try to buy the cuts that are not perfectly circular)
1 bunch asparagus (wrapped in a rubber band)
Olive Oil
Balsamic Vinegar
Garlic Salt, Pepper
Method:
At least 4-5 hours ahead of cook time poke steaks with a fork.
Marinate in olive oil, balsamic vinegar, garlic salt and pepper. Coat the steaks enough to where there is extra liquid to soak into the meat. The Olive oil should be 5 tbsp. to ever one tbsp. of balsamic vinegar.
Once you are ready to grill.
Cut bottom of asparagus off and mix with olive oil and balsamic vinegar. Put on a plate and take to the grill along with your marinated steaks. Steaks should be at room temperature.
Heat grill to medium- high heat.
Place steaks on direct heat. Flip after 5 minutes and keep on direct heat for another 5 minutes. Then move steak off direct heat and cook until internal temperature reaches 125 degrees.
While steaks are grilling.
Place asparagus on indirect heat. Roll back and forth until tender.
Then sit back and enjoy your filet with a glass of red wine or sparkling water with lime. This recipe is sure to impress and costs a fraction of what you would spend at a fancy steakhouse.
Most Recommended