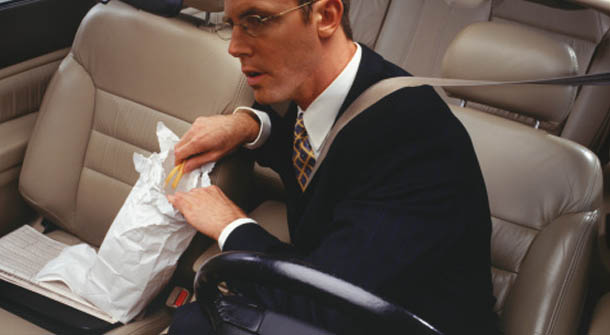 Eat breakfast like a king, lunch like a prince and dinner like a pauper, not only is this age old saying good advice but it is the key to a healthy diet. Normally we don't advocate drive thru food for any part of a healthy diet; however we do realize after all we are all human so if you must get your breakfast via drive thru on rare occasions make sure it's healthy.
check out these healthy drive thru options.
• Subway
Egg White Flatbread sandwich - This sandwich has only 160 calories, the tasty ingredients include Black Forest ham, egg whites,green peppers, red onion and Monterey Jack cheese all a top a English muffin is a great way to start your day.
• McDonald's
Fruit & Maple Oatmeal – McDonald's has made over there menu with a few healthy items such as this one with red and green chopped apples, , raisins, dried cranberries, brown sugar, and cream. The fiber helps lowering cholesterol levels and balance blood sugar which is a plus if you are trying to lose weight.
• Dunkin Donuts
Egg White Turkey Sausage Wake up Wrap – This wrap includes egg whites, low fat cheddar cheese,turkey and spinach. You can even grab a cup of coffee just don't add too much sugar and cream.
• Panera Bread
Mediterranean Egg Whites on Ciabatta – This hearty sandwich weighs in at a modest 400 calories and is stacked with aged Vermont cheddar cheese, roasted tomatoes, basil pesto, fresh baby spinach and egg whites on a ciabatta bun. To take away some of the calories try stripping off the cheese or only using half of the bun. Either way this breakfast sandwich is a great on the go option.
• Jack in the Box
Bacon Breakfast Jack – We found a very surprisingly healthy breakfast sandwich from a notorious health violator - Jack in the Box. The bacon breakfast Jack has egg bacon and cheese at only 300 calories and 16 grams of protein which makes it leaner than its high calorie counterparts without giving up on the taste.
• Starbucks
Spinach & Feta Breakfast Wrap - This is a great wrap for on the go eating with spinach, egg whites, feta cheese and tomato on a whole wheat wrap. It rings in at 290 calories with 10g of fat/ 3.5g if sat, fat, 6g of fiber, 19g of protein.