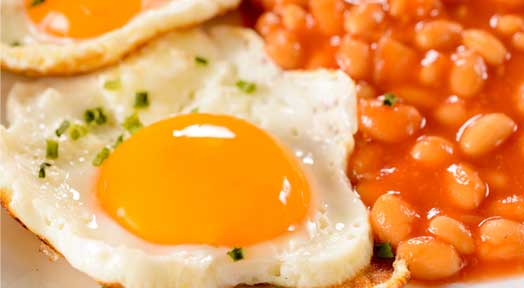 Post Gym Meal Ideas, A lot of people say being in great shape is 20% your workouts and 80% your diet. A lot of people would be right or pretty close to it. After you are finished getting in excellent pumps at the gym make sure to give your body the proper nourishment it needs to replenish your lost fuel as well as rebuild your torn muscles.
Here are a couple great Post Gym Meal Ideas.
Fried Eggs and Beans
This is probably one of the most pure and simple dishes one can whip up after a workout. Once you get home from a lift you're probably not starving so this light, spicy entrée is perfect right after you walk in the door. This isn't cooking science, you can modify this to fit your personal appetite best.
What you'll need:
A frying pan
A couple eggs, 3 or 4, maybe more depending on your appetite.
Beans. It doesn't matter what kind! Kidney beans, northern beans, and black beans all work wonderfully.
Hot sauce. Texas Pete or Tapatio are both great.
Ketchup
Cayenne pepper
Milk
Directions: In your frying pan, fry up your eggs how you like. Throw some cayenne pepper on them. Warm up and add the beans. Hit it with some hot sauce and a dash of ketchup to balance everything out. Chop up and ravish. Drink with milk.
The Ultimate Protein Shake
Protein shakes are probably the most ubiquitous tradition among lifters across the nation. They are simple, healthy, delicious, and extremely helpful for us in achieving our fitness goals. Here's a great mix for a great protein shake.
What you'll need:
Whey protein powder (chocolate preferably)
Natural peanut butter (the kind that separates) (and only if you're not allergic)
Banana
Berry mix (virtually any kind will do)
Milk
A blender
Ice
Directions: In your blender, toss the ice, the powder, the milk, a heaping scoop of peanut butter, a chopped up banana, and some berries. Blend and enjoy. You can add Greek yogurt if you'd like.
Greek yogurt and granola
A simple two-second concoction that is extremely lean and satisfying is Greek yogurt and granola. Reach for the Greek as it is about as healthy as you can get when it comes to yogurt options and you can buy store brand in bulk for cheap.
What you'll need:
A bowl
Greek yogurt
Granola
Berries
Directions: Throw all of the ingredients into a bowl and enjoy. Simple and delicious.