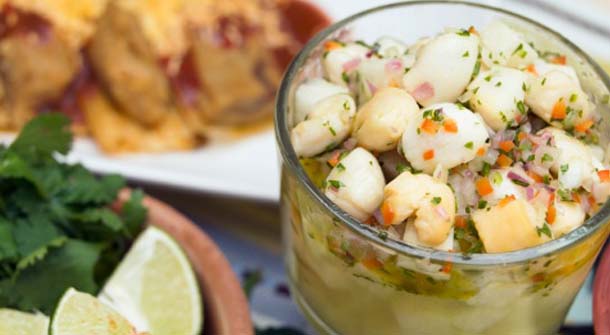 Peruvian food is one of the best-kept secrets in healthful eating. Unlike other Latin cuisines which prominently feature white rice, carbs, and various fats, Peruvian cooking is delightfully lean and surprisingly diverse. One dish, however, is fairly well known throughout the world for its tantalizing flavor and texture – ceviche. And the good news is, it's a protein-laden, low-carb, low-fat dish to serve virtually any time of year, any time of day.
Here's how you can make Delicious Ceviche at home.
Club Ceviche Ingredients:
- Approximately 1 pound raw firm, white fish such as flounder, grouper, mahi or tilapia
- Approximately 1 pound raw "accent" seafood such as shrimp, tuna steak, calamari, scallops, or squid
- 2-4 Medium-to-Large Ripe Tomatoes
- 4-5 Large, Juicy Limes
- 1 Large Red Onion
- 1-2 Jalapeno or Scotch Bonnet Peppers (optional)
- 1 Avocado (optional)
- Salt & Pepper
- Olive Oil
- Fresh Cilantro
Preparation:
Dice all seafood ingredients into equal, bite-size pieces. Then finely mince tomatoes (omit seeds), onions, peppers, avocado and cilantro, and combine in a non-metal bowl with olive oil. Add seafood and gently miss together with hands or salad tongs. Squeeze limes until you have enough juice to just cover the fish.
Cover with plastic wrap and place in refrigerator for at least 1 hour. The acidity from the lime juice will "cook" the fish. You will know it is done when fish appears white instead of translucent or pink. Remove, drain off about half the liquid and serve in cocktail classes or with water crackers. Cover any remaining with plastic wrap and return to fridge. Feeds approximately 4-6 people. Keeps for up to 3 days.