The Best Post-Workout Drinks You Should be Using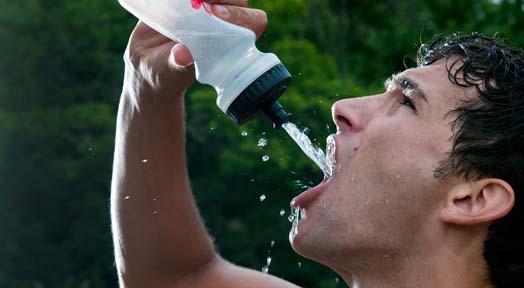 When it comes to helping your body recover after a workout it's a given that liquids are essential, but oftentimes people think that all drinks are created equal when they choose their post-workout drinks. However, the simple truth is that though pretty much all liquids help to hydrate you some work much better than others to help do that and more after a workout.
Type of Workout: Sweaty/Hot Run or Bike Ride
Drink: Sports Drink post-workout drinks
Why: After a workout that has caused you to sweat excessively or your body to heat up, a sports drink is just the ticket to help rehydrate your body because of it contain fluids, salt and sugar. These three ingredients help to rehydrate the body, restore electrolyte levels and give your body carbs to burn as a post-workout drinks. Drink an ice cold sports drink after your workout to aid in recovery and cool the body off as well.
Type of Workout: Long Distance Event
Drink: Cherry Juice & Water
Why: Scientists have found that antioxidants play a major part in helping a body to fight off inflammation and muscle damage during and after an endurance event and cherry juice just happens to be one of the most antioxidant rich drinks for you to choose from. It is important to start the actual "recovery" portion of a long distance event such as a half-marathon before the event even starts. About a week before an event drink 5 large glasses of water and 1 glass of cherry juice a day, making sure to drink the cherry juice especially an hour or two before the event. Try to keep the cherry juice as pure as possible to retain the beneficial antioxidants from the fruit.
Type of Workout: Strength Training
Drink: Low Fat Chocolate Milk: post-workout drinks
Why: Everyone knows that milk does a body good by helping to build strong muscles and bones because of the protein inherent in the drink, but adding sugar by the way of chocolate helps the body to absorb the protein much quicker. Drinking a large glass of low fat chocolate milk right after a workout will help you to absorb the protein it needs to help the strength training workout to add healthy muscles to your body.
Type of Workout: Ultra Endurance Event
Drink: Non-alcoholic Beer: post-workout drinks
Why: Many ultra endurance athletes suffer from respiratory infections after an event because it raises the inflammation levels in your body and weakens the immune system. It may seem like a funny joke, but non-alcoholic beer can help to combat that by bulking up your immune system before a once in a lifetime event such as the big triathlon that you've been training 6 months for. German researchers have found that the polyphenolic compounds in non-alcoholic beer can help to increase and strengthen the immune system if it is drunk before and after an endurance event. Drink 16oz of the beer once a day for the 3 weeks before the event and for 2 weeks after the event.
Most Recommended