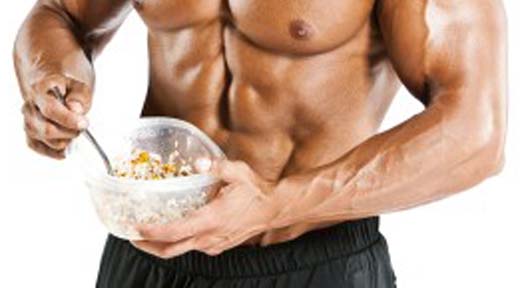 The key to gaining muscle is to exercise and eat a diet high in protein. Ultimately, the body needs protein to build and maintain muscle. If you think you can't afford to eat a diet high in protein – think again. Some of the best protein sources are inexpensive and very affordable despite what you have been told. There are various sources of "cheap" protein available to the average individual. According to the CDC, the recommended daily allowance for men ages 19 – 70 is 56 grams of protein.
How to gain muscle mass when money is tight
Protein essentially provides structure to your body's gaining muscle. Moreover, proteins are sources of enzymes, amino acids, and immune molecules. However, one must consider the consequences of consuming protein from animal (saturated fat) sources as this could increase cholesterol and increase the risk of heart disease. There are many choices of lean protein sources available to the budget conscious healthy shopper!
1. Chick Peas
Studies show that individuals who consume chick peas tend to eat less processed foods! Chick Peas are known as one of the world's healthiest foods. One can of chick peas contains 15 grams of fat per serving and is very low in cholesterol, sodium, and saturated fat. It is a good source of fiber, folate, and manganese. Often referred to as garbanzo beans, eating chickpeas can help you get the protein source you need in order to maintain and build muscle. Eat more Hummus! One can of organic chickpeas is $2.38 cents or $2.79 cents a bag.
2. Eggs
Eggs are very high in protein; in fact, one egg has more than six grams of protein. Eggs can therefore help you build muscles and give you energy. Additionally, eggs are full of nutrients such as choline, selenium (immune system), (A, B, E, & C vitamins) and lutein. Ironically, eggs can also help prevent muscle loss. While eggs are generally considered healthy, they have a high amount of cholesterol. The key is to be modest in the amount of eggs you consume. One carton of eggs is $2.00.
3. Soybeans
Soybeans (a highly available source of plant food that is high in protein) is relatively healthy. Not only is it a source of lean protein, it is equal in protein value to eating eggs. It is also a healthy source of protein that improves blood pressure, blood sugar, and immune system function. One cup of cooked soybeans has 14.3 grams of protein in it. 1 can of soybeans is $2.39.
4. Tuna
A can of tuna is very inexpensive. It is also a high protein source. It contains about 32 grams in 1 can. One can of tuna contain at least two servings. Tuna provides your body with iron and potassium; it is also a low fat source. One can of tuna is $2.50.
5. Sardines are a great diet to gain muscle
These tiny fish pack around 21g of protein per serving and make for a great snack or you can cut them up with vegetables and sauté them with a small amount of olive oil and eat over rice. They are packed full of nutrients, omega-3's and taste great. You can pick them up for around $3 a pack just make sure to use the ones packed in fresh spring water to save on excess calories.