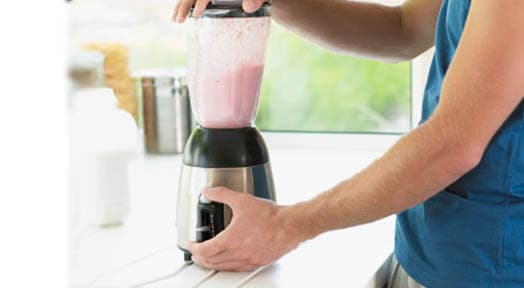 How can you improve your protein shake without adding too many fats, carbohydrates, and other ingredients that work against building muscle? Body builders need extra protein to help support muscle growth and repair. However, protein should be balanced with other nutrients because you also need to focus on boosting the immune system and speeding up metabolism as well. High protein diets may not be safe overtime but you can add other safe sources of protein to your protein shake.
Top protein shake ingredients to shake things up
Now that you have started working out it's time to focus on building muscle. If you are drinking regular protein shakes you may need to get creative. This may require you to make your own protein shake or add extra punch to protein powder that you may have purchased over the counter. There are several ways that you can improve your protein intake with a healthy – more natural shake. You can do this by adding the following ingredients: dark leafy greens that have been juiced or emulsified, nut milk, flaxseeds, flax oil or hemp supplements.
Dark Leafy Greens / Kale -
Dark leafy greens – Kale greens can be juiced or emulsified and added to any shake. A scoop of veggie protein powder or other protein powder can be added to dark leafy greens to make super protein shake. Some do not recognize the importance of adding dark leafy greens such as Kale to a protein shake. Not only is it a high source of vegetable protein, it is nutrient rich and full of calcium, antioxidants, and anti inflammatory agents. These are the nutrients that a bodybuilder needs to build strong muscle, bones, and connective tissue. Kale also helps fight inflammation due to a strenuous workout. So, start repairing and building strong muscle, connective tissue, and bones by making your own protein shake at home. Emulsify dark green leafy vegetables and add fresh or frozen fruit to make the juice taste better.
No More Smoothie Bars
Make your own protein smoothie at home! This can be done by adding lots of protein from milk or nut milk, almond butter, flaxseeds, or flax seed oil. Don't forget the ice and frozen fruit. Did you know that nut milk is low in calories and also a good healthy source of protein? Add this to your protein powder to make the perfect smoothie. By the way, eat more flaxseeds to get even more protein in your diet.
Hemp Supplements
Add Hemp Supplements – Hemp supplements contain a high amount of essential amino acids. These amino acids are important because they help build muscle. Additionally, hemp sources are high in antioxidants. Add hemp oil or hemp protein to any smoothie to help fight off free radicals in the blood!
Carob
Have you ever heard of a carob protein shake? Carob has less fat than other protein shakes that contain cocoa powder. Compared to cocoa powder, Carob is far more superior because of its low fat content and natural ability to sweeten things up. Carob is also high in nutrients. It contains 80% of protein as well as calcium, vitamin B and D, trace minerals, magnesium and potassium.
Raw Honey
No, raw honey does not contain protein but it will make your protein shake taste better. Raw honey is very nutritious and contains a balance of enzymes, vitamins and antioxidants. It boosts the immune system and is also a powerful antioxidant. Add a little bit of flavor to your protein shake!
Be creative with your protein shake! Spice it up with nutrients and vitamins you need to build muscle, maintain weight, help fight off disease and boost your immune system. From green leafy vegetables to a dash of raw honey and carob. Make a regular protein shake taste great!