How to Cook with Wine to Impress Your Guests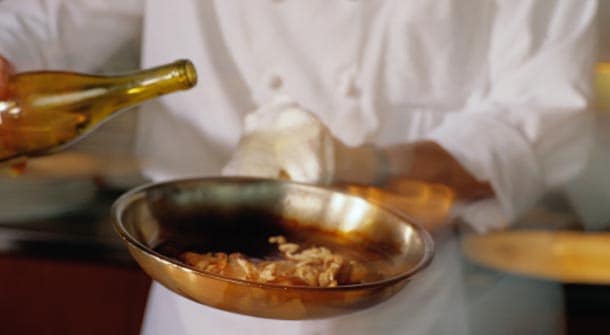 Learning to cook with wine is a great way to add more flavors to a dish and take it to the next level. Whether you are a wine connoisseur or just someone who likes wine every now and then. You can easily learn to use wine in your food with these quick and helpful tips.
How to Cook with Wine
1. Know Which Wines to Use with Which Meat Dishes
As a general rule of thumb, white wine goes best with fish, chicken, shellfish and turkey. This is because it has a more subtle flavor and would be overpowered by red meats. Red wine goes best with beef, game, duck and goose due to the fact that the meats need a more robust flavored wine. This is so they can be tasted over the strong flavors of the red meat. Alternately, pork can be paired well with either red or white wine.
2. Adding Wine to Side Dishes
Wines can be great for more than a flavor addition to the meat course. They can be added to side dishes to bring out the flavors more and enhance the dish. Red wines pair well with pasta dishes that have a marinara while white wines work well in cream sauces. With vegetable dishes either wine will work well, just think about how flavorful the vegetables are before adding the wine to consider whether a white wine (i.e. subtle flavor) or a red wine (i.e. strong flavor) is best.
3. Only Use Wines that You Would Drink When Cooking
One of the best tips on how to cook with wine is to only use wines that you would drink. Just because you are adding a wine to a dish doesn't mean that just any cheap wine will do. You will want to choose a wine that tastes good and pairs well. Keep in mind you don't have to spend $50 on the bottle. There are many good wines, both red and white, that can be found for $10 or $15 and used wonderfully in a dish.
4. Stay Away from "Cooking Wines"
Wines created solely for cooking have a great deal of salt or sugars added to them that just can alter a dish's flavor, making the dish less delicious and a lot less healthy. Cooking wines aren't as robust or as layered with individual flavors as quality wines. For the most part, they are a waste of your money and time while cooking.
5. Consider How You Prepare the Dish When Choosing a Wine
Whether you cook with strong meats or subtlety flavored vegetables, you also need to consider how you plan to cook them in order to choose the right wine. When using heavy spices in a dish, you'll want a sweet wine to counterbalance it. However, if you are cooking with a light or creamy sauce you'll want a dry white wine to that isn't able to overpower the dish, but is still flavorful enough to be tasted through the other flavors.
Most Recommended