Yin and Yang Foods for a Balanced Diet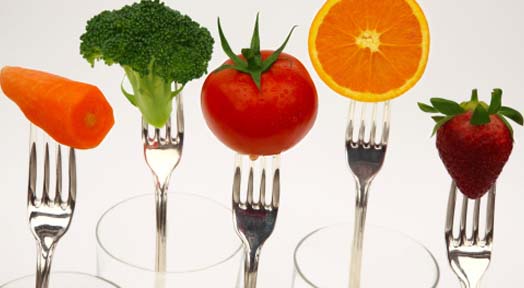 Eating a balanced meal isn't just about getting something from all food groups – it's about understanding that foods require a balancing act. Sweet foods make us desire salty or sour foods. Fresh, light tastes like veggies match well with the balance of something filling or full of protein. Below is a list of Yin & Yang foods. If you see a particular food under both categories, that food is considered neutral, with equal amounts of both yin & yang. In each meal, try to incorporate both yin and yang foods to bring balance to your nervous system and internal organs. Yin Foods (cold and damp energy, eat more of these if you feel jittery or can't sleep):
Yin and yang foods for a balanced diet
Apples, Avocados, apricots, Beets, Bananas, Blueberries, Blackberries, Broccoli, Cantaloupe, Cauliflower, Celery, Cranberries, Cucumbers, Eggplant, Endive & Escarole, Grapefruit, Grapes, Jicama, Kiwi, Lemon, Lettuce, Lime, Goji Berries (Lyceum Berries), Mangoes, Okra, Oranges, Papaya, Peas, Peaches, Pears, Persimmons, Pineapple, Plums, Pomegranate, Pumpkin, Rhubarb, Shiitake Mushrooms, Spinach, Star Fruits, Strawberries, String Beans, Summer Squash, Swiss Chard, Tomatoes, Watermelons, Almonds, Chia seeds, Pistachios, Poppy seeds, Pumpkin seeds, sesame seeds, sunflower seeds, coriander (cilantro), honey, Parsley, peppermint, saffron, spearmint
Yang Foods (warm and dry energy, eat more of these if you feel lethargic or achy):
Apricots, Arugula, Asparagus, Bell Pepper, Brussel Sprouts, Cabbage, Carob, Carrot, Cherries, Chives, Dates, Figs, Kale & Collard, Kumquats, Litchee, Goji Berries, Olives, Onions, Parsnip, Peas, Radishes, Raspberries, Shiitake Mushrooms, String Beans, Sweet Potatoes, Turnips, Watercress, Winter Squash, Almonds, Cashews, Coconuts, Flax seeds, Hazelnuts, Hemp seeds, Macadamia Nuts, Pecans, Pine nuts, Pistachio, Pumpkin seeds, Sesame seeds, Sunflower seeds, Walnuts, Anise, Basil, Cardamom, Yang, Cloves, Coriander, Cumin, Dill, Fennel, Garlic, Ginger, Honey, Mustard seeds, Nutmeg, Oregano, Paprika, Parsley, Pepper, Rosemary, Saffron, Sage, Scallion, Tarragon, Thyme, Turmeric, Vanilla
Here are some more raw recipes to inspire your inner chef! Note: I'm not sending too many salad recipes because I am assuming all of you can get creative with salads. I'm trying to send you recipes that are a bit out of the norm to make your raw vegan experience more enjoyable!
Breakfast pudding (makes a yummy dessert too)
makes 2 servings
12 dried apricots, soaked overnight
2 cored apples, coarsely chopped
1 tbsp tahini
1/2 tsp cinnamon
1/2 inch fresh ginger root
1/4 cup raisins
Combine the apricots, apples, tahini, cinnamon, and ginger root in a food processor or blender (hand held works too) and blend until finely chopped and mixed. Pour the mixture over raisins and stir. Chill the pudding for 1 hour before serving. Will keep in the refrigerator for 2-3 days.
Oriental Broccoli
Makes 4-6 servings
2 dates, soaked for 20 minutes
1/2 cup fresh squeezed orange juice
1 tsp grated fresh ginger root
1/4 cup shoyu
1/4 cup extra virgin olive oil
4 cups chopped broccoli
1/4 cup sesame seeds
Combine all ingredients except broccoli and sesame seeds in a blender and puree. Combine the broccoli and sesame seeds together in a bowl and stir. Pour the puree over the broccoli and toss.
Macaroni & Cheese
makes 2 servings
2 cups pine nuts or macadamia nuts
1 cup water
1/2 cup light (yellow or white) miso
1/2 cup sun dried tomatoes, soaked for two hours
2 tsp cumin
2 tsp turmeric
1/2 tsp Celtic salt
6 cups spiralized vegetable (zucchini, yellow squash, rutabagas, daikon, radishes, carrots, or turnips work or most any root vegetable can work.
Place nuts, water, miso, tomatoes, and spices in the blender and blend until smooth. Pour over noodles and serve
Asian noodle bowl
makes 2-4 servings
4 cups water
2 tsp miso
1 tbsp shoyu
1/2 tsp finely grated fresh ginger root
1 cup finely shredded cabbage
2 small, slivered or "spiralized" yellow squash
1/2 cup fresh cilantro
Combine the water and miso in a blender and puree. Combine this broth with the remaining ingredients in a large bowl and mix well
Most Recommended