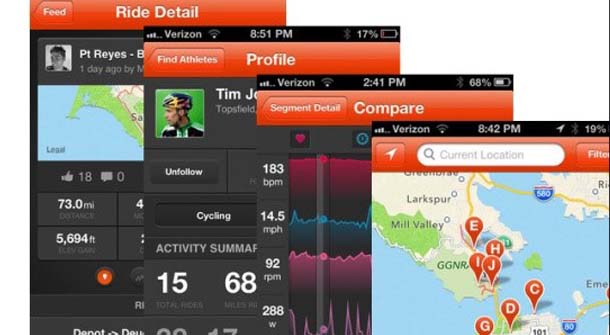 If you're a man that loves adventure, the outdoors, sports and the thrill it gives you there are certain gadgets out there that will make your adventure loving heart squeal like a little girl in glee. From GPS gadgets that were so well-designed that the US Coast Guard would weep with joy at seeing them to outdoor gear that makes it possible to get a workout like never before, these adventure gadgets are the stuff of legends and will make your outdoor activities so much more than they ever were before.
Adventure gadgets for the great outdoors
Strava – The App Designed for Men who Love Completion
Fitness app was created for people who are looking for a way to not only track their progress when it comes to running and cycling, but it allows you to complete with other users to see who's the best and get a little boost in confidence as well. The free app is available on iOS and Android devices to track your times, movements, workout effectiveness and see it all online on the Strava website along with others on the site as well. For those who want to step the workout up a few notches the app offers a premium upgrade where you can get tips on your workout, analytics on your workouts and other tools that make the competition even more thrilling.
Oakley Airwave Goggles
For those skiers and snowboarders who are looking for a bit of an upgrade to their old goggles, the Airwaves are a futuristic blend of technology that makes your time on the slopes 10 times better. The goggles use a wrist mounted controller that when synced up to your phone provide you with a small screen in the lower right-hand side of the screen that shows you your speed, outside temperature, altitude, musical playlist attachment and even where other skiers using the Airwave goggles are. At $599 the price is a little steep, but if you're looking for a whole new level of play when your skiing or snowboarding these goggles are a wonderful additional to your gear.
Joule GPS
Cyclists who want to get more out of their workout or training sessions might want to take a look at the Joule GPS gadget. It provides cyclists with a mobile workout data lab that tracks things like your time, speed, heart rate, distance and offers exact GPS location for your bike path from start to finish. It also offers you key data analytics that help you to figure out your stats and improve on where you are lacking to better your workout and training regimen. The adventure gadget comes in at between $269 and $319 based upon the various models and weighs only 2.6oz so it is well worth the results if provides.