Austin TX All That is Fit to Eat Drink and Enjoy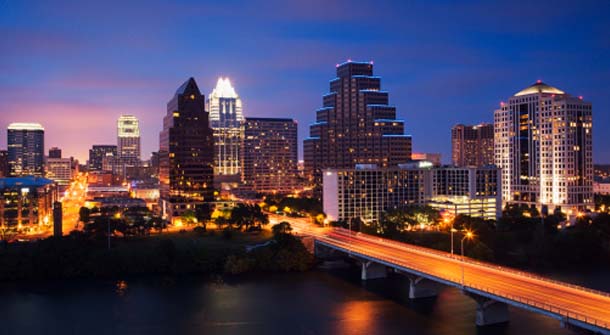 Whether you recently got your first taste of Austin, TX at February's Livestrong Marathon or you've been craving a new destination for food, fun and fitness, look no further than this big-little city deep in the heart of Texas.
Top Things to do in Austin Texas
For many years now, Austin has delighted in its reputation for "weirdness." Known for friendly locals and a very creative vibe, it seems like anything offbeat from food and music to arts and entertainment finds its way to Austin.
Find the Foods Trucks
For example, the gourmet food truck craze that's sweeping the nation… you've got Austin to thank for that. They were the birthplace of this latest generation of high-end eats on wheels. Today, the food trucks are still going strong in Austin – floating around the city near Congress Ave and on the side streets along 135.
Eat at Guero's Taco Bar
Traditional walk-in restaurants offer impressive menus too – congregating mostly along 6th street between Congress Ave and I35. Our favorite picks include: Guero's Taco Bar, Halcyon, and Parkside. Each with their own different menu, the food here is inspired, fresh and inventive – a foodie trifecta.
At Guero's – health conscious individuals will adore the Poquito Fajita Taco with tasty grilled chicken and fresh guacamole and the Pescada Fresca (fish of the day) with of Ajo (garlic) sauce or Veracruzana (tomatoes, green olives and jalapenos). The spot also offers an award-winning selection of tequilas and ample vegan and gluten-free menus.
Sip coffee at Halcyon Coffee Bar
Halcyon takes the coffee-bar-lounge concept to new heights with amazing coffees, coffee and espresso cocktails, breakfast featuring steel-cut oats and made-in-house quiche; savory grilled chicken and veggie wraps, salads, and paninis for lunch; and decadent bananas foster crepes and tableside smores for dessert.
Dine at Parkside
For a slightly more upscale experience, Parkside never disappoints. An incredibly impressive selection of oysters graces the even more impressive raw bar that also features ceviche with avocado and a fantastic tuna tartare. And while you could easily make an entire evening there (and plenty of people do), the entrees are equally mouthwatering. Grilled venison, butter-walnut sautéed sea scallops, braised short ribs, and green garlic risotto are just a few of the top choices on the menu. And, if you're looking for a deliciously guilty departure from your diet, the gruyere macaroni and cheese is out of this world.
Check out the music scene
Before, after, or even during your great dining adventures in Austin, make certain you check out the awesome live music scene. This is far from twangy Texas country music – the bands here are even more diverse than the menus.
Most Recommended