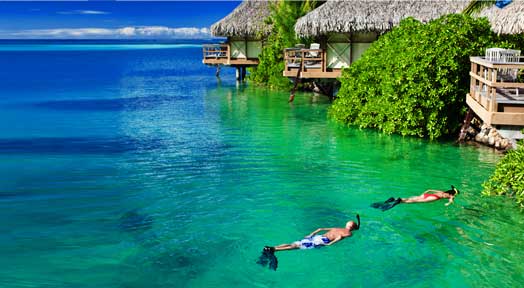 There are few things as fun or as refreshing as a dip in the ocean on a sunny day. Just under the surface, however, you'll be able to add some depth to your fitness routine while enjoying unforgettable sights. Summer snorkeling vacations. Snorkeling tops the list of water sports at thousands of resorts worldwide, it's one of the easiest diversions to learn and enjoy – regardless of past experience or skill level. You don't even have to be an accomplished swimmer to enjoy snorkeling. With minimal instructions, even beginners can snorkel in no time.
Here are some of the best summer snorkeling vacations spots to visit.
The Florida Keys
Whether you're a beginner on a budget, or an expert in search of a challenge, the Florida Keys deliver in rare style. The shallow-water reefs of John Pennekamp State Park in Key Largo are relaxing and affordable ways to become familiar with your snorkel, mask and fins. Waters are warm enough for just swimsuits most months of the year, with December, January and February equally enjoyable with just a short wetsuit. Day trips start at under $30 for adults and under $25 for children up to age 13. Equipment rental is typically less than $5 dollars for basic gear and only a small amount more for wetsuits. Once you've gotten your feet wet (so to speak), it's only an hour's drive south to Islamorada and some of the best wreck diving and snorkeling in the world. Here, you'll get to explore the remains of various shipwrecks dating from the early 1950s all the way back to the 1700s. Unlike Pennekamp State Park, you'll need to dive a bit below the surface to interact with these sites, so prior experience with snorkeling and free diving are recommended.
The Cayman Islands
If you really want to get up close and personal with spectacular marine life, including fish, sea turtles, crab, lobster, shark and stingray, the Cayman Islands are a sure winner. Located in the lower Caribbean, just south of Jamaica, this sun-swept paradise is an unforgettable place to snorkel. Waters here are turquoise blue and completely crystal clear – allowing for maximum bottom visibility even while splashing around on the surface. What's more, some of the greatest underwater sites in the Cayman Islands are in less than 30 feet of water, just perfect for snorkelers. A definite can't-miss is the ever-famous Stingray City just off the coast of Grand Cayman. Despite being less than 20 feet at its deepest, this area is filled with hundreds of friendly stingrays. Then, on the west end of the island, explore the "miniwall" reef called Turtle Farm. As the name suggests, you're likely to see plenty of sea turtles, but look to be dazzled by parrot fish, tarpon and more, too.
Kauai, Hawaii
On the other side of the world's oceans lies the one of the most popular and unforgettable snorkeling attractions in the Pacific. Few things in life compare to drifting effortlessly among a school of brightly colored tropical fish in the clear, warm seas of Kauai, which are among Hawaii's finest waters. Although it's important to note that the waters of the Pacific Ocean are far chillier than those of the Caribbean, so be sure to bring or rent a wetsuit. The best snorkeling on Kauai is usually found inside the island's many protected lagoons where coral reefs play home to hundreds of species of fish, one third of which are found nowhere else in the world. Tunnels, on Kauai's north shore, is named for the vast labyrinth of pathways that intersect the shallow reef with cavernous canyons. This variation in undersea terrain makes for exciting explorations and an ideal home for a wide array of reef life. So dive in and stay a while at any of these great snorkeling spots – the water's great!  these are our pick of summer snorkeling vacations.