Business Card That Will Make a Statement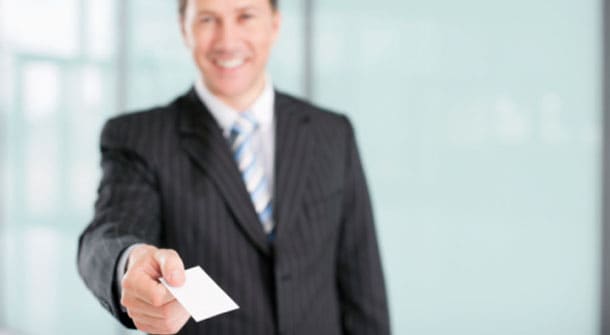 The first impression potential clients (or potential bosses) will get of you is, of course, your charming smile. But the second and more lasting impression they will get is of your business card. After all, your smile may fade from their memories, but choosing the right business card will stick around in their briefcases or card holders.
For such a small, flimsy thing, your business card has a big job. It has to accurately represent your brand, your business, and you. It has to be memorable, but professional, and it has to say the "right" thing to everyone who receives it.
Tips on choosing the Right Business Card
Quality Counts
First and foremost, quality counts. You don't have to buy the most expensive cards you can find, but cheap (or free) cards can be spotted from a mile away, and don't say much about the value you place on your business. Use quality paper and quality printing. If you're using a photo of yourself (more on that later), have a professional head shot done. If you're creative and artistic, you may be able to get away with designing your own card. If not, invest a little cash and hire a designer.
Design is important
Second, consider your overall design carefully. Even if you do hire a designer, it's your business, and he or she will need some ideas and input from you. The goal is to strike a balance between a design that stands out and one that's concise and professional. How far you should go in either direction depends on your type of business and your personal comfort level.
Choose your Category
If you're in a creative profession—say, you're a photographer or a graphic artist–you have a little more license and leeway. After all, you'll have to use that tiny space on your card to demonstrate your artistry and make yourself memorable. If you're in a highly competitive field that doesn't necessarily require block letters and buttoned-down professionalism—think lawn care, computer repair, or restaurant promotion–you can also afford to get pretty creative with your card, and it will likely benefit you to do so. For those in fields where a more professional and toned-down approach is required—such as accounting or sales—you'll have to be more subtle with your design, and try to find small ways to make your card stand out, like the clever use of color or an interesting, yet understated graphic.
Carefully craft your message
Next, decide what your card should say. Remember, this is not a brochure. You need to be concise and convey only the most essential information about your business. Your name, business name, phone number and web address are generally all that's needed. Only add in a physical address if it's necessary. If you're a sales rep, for example, you don't need to add your office address. But if you own a pizza restaurant, your main goal is to get people in the door, so adding your location is probably a good idea. If you have multiple locations, only add the actual physical address of one of them.
Create a compelling call to action
Finally, keep things functional. Even if you're going down the creative route, people have to understand what you're trying to tell them within about five seconds, or else your carefully though-out card will end rotting for eternity in someone's wallet. A few tips:
• Use a typeface that's clear, legible and easy on the eyes.
If people have to struggle to read your card or decipher your business name, they might vaguely remember you, but not at all for the right reasons.
• Don't let your design compete with your info.
Limit your color choices and keep graphics simple and proportional. If you've got an amazingly cool idea for a large design graphic, consider putting it on one side, and put your info in a clean, simple and neat format on the other.
• Photos.
If you're in a profession that requires personal trust, such as family counseling or real estate, they could be a good idea. But a dated, awkward or "too-staged" photo can very easily fall into the realm of cheesy or overbearing. Proceed with caution.
• Use a logo if you can.
Logos provide familiarity, which eventually establishes instant recognition and trust.
Most Recommended