Best Shower Head To Replace Your Old One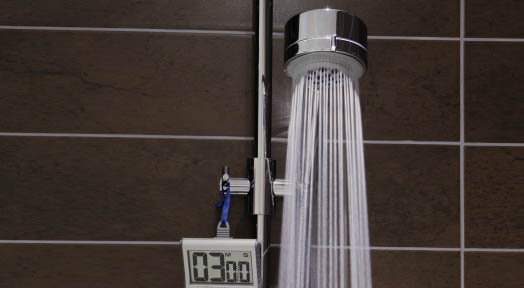 After a long day at work you need the best shower head for when you step into the shower. You're sweaty, hot, grimy, and can't wait to get that nice jet of lukewarm water on your body to cut through the yuckiness. As you pull the level to start the shower, just a light trickle comes out. You sigh, take 15 minutes longer in the shower than you should need to take to soap up and rinse off, and then realize you didn't get all the shampoo out of your hair. For some this is only a luxury you feel while traveling at a high end spa or hotel, but it should happen right at home. Finding the best shower head for your personal preference will not only change your life, but it could end up making your water bill cheaper too.
Finding the best shower head for you
What Type of Shower Do You Need?
There are several types of shower heads on the market today. That means the best shower head for men is really based on your personal preference… or if you're married, probably your wife's personal preference. Here are the types to consider:
• gentle rain showerheads,
• low flow showerheads, and
• multiple head showerheads.
Gentle Rain Shower Heads Should Actually Let Water Fall
The nature of a gentle rain shower head is that it should actually simulate rainfall. What does rain do? It falls, hence why it's called "rainfall." A lot of those cheap models of gentle rain don't do that – they'll spray these little streams of water out at you that make you feel like you're in a Category 1 hurricane instead of a soaking Spring shower. Consider the models from Hansgrohe first – they're pricey, but worth it.
A Low Flow Shower Head Shouldn't Be Worthless
The idea of a low flow is nice – save some water, have a lower utility bill, and help the planet a little bit. The problem is that many of these take "low flow" way too seriously and you might as well just get a sponge and bathe in the kitchen sink. The best shower heads in this category are made by Delta Faucets. You can find them virtually anywhere, they're reasonably affordable at around $100, and they provide enough water that you don't have to get down on your knees and beg to the shower gods for more water.
Shower Heads For Those Who Like Variety
Variety is the spice of life, which means a shower head that provides variety will make for a spicy shower. From rainfall to jet streams that are perfect for a tense neck, you'll be able to select the right shower for your mood with a Kohler shower head. Kohler makes a reliable product that will stand up to heavy use without breaking down on you. Oh yeah – you can grab one for around $50 too.
What shower head is right for you? Take these brands into consideration as you create the shower sanctuary you need where time can stand still for awhile. A good shower can help make the worst day better. A bad shower with a bad showerhead? You might as well just stay grimy and miserable.
Most Recommended