Hiking The Outdoors Cardio Workout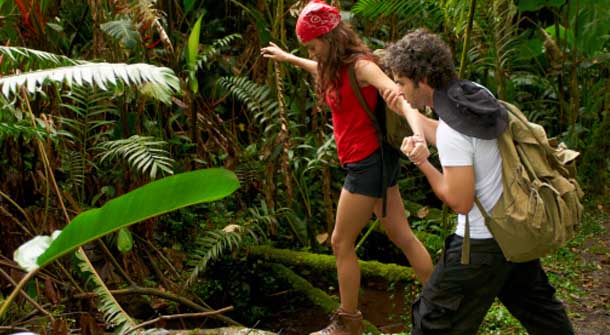 We believe hiking to be an experience that changes your perceptions towards how you view nature. Fit the trail with hiking and make it a part of your life! When your travels take you someplace with a lot of natural outdoor beauty; you're also getting up close and personal with an exhilarating and healthy leisure activity. Hiking and trail running offer more than just scenic views and interesting wildlife. These pursuits also provide a challenging workout for someone who's looking to get some extra cardio. Rather than just working out in a closed place like a gym.
Hiking is a source of refreshment for both the individuals' mind and body. While the scenic beauty and the time spent in the fresh air works wonders. It allows your mind to relax as well as the physical exertion required in the process is a great workout.
Hiking vs. The Gym
Although many gyms and workout areas tend to provide equipment needed for cardio and a rigorous workout. But the gyms are artificial and made to cater the requirements of all users. The hiking tracks by nature are uneven thus requiring more balance, coordination and strength. As compared to running on roads, tracks and treadmills. The cardio intensity also varies so unexpectedly that your overall cardio fitness improves. And that too quite rapidly so that it may always be prepared for the next hill or incline. As well, the loose soil and terrain are much easier on the joints; therefore reducing the possibility of impact related joint injuries.
What Gear do you Need?
As compared to a proper gear required for a workout in a gym. The process of hiking does not demand special attention from the person. The person is able to do so in a regular pair of running shoes and a backpack. And a pair of over-the-ankle socks which is enough to get you nearly anywhere you want to go. It is always better to alternate hiking with and without footwear. It is a proven fact that running barefoot can also help a great deal. Also, using socks which grip the foot and different parts separately during the trailing process allows stability. And thus allow the individual to maintain a strong grip on uneven terrain.
Turn off the Music
During a gym workout, a lot of people like to bring their smartphone and rock out to their favorite playlist or workout tracks and block out all of the crowd noise of the gym. However, this is not recommended for hiking. Trails require more focus and attention than flat surfaces, not just because of the surface itself. But also because of wildlife and other activities such as hunting that occur in nearby areas. Your sense of hearing is an important asset while out and about. Safety always comes first. It is important that you always take safety measures. Always try to be attentive while hiking as things can always get uncertain.
Moreover, the underlying purpose of hiking and trail running is to immerse oneself into nature. Just forget about the technology filled life and focus on nature! We'll tell you what, the experience of hiking can even get better. Just leave your music gear behind and just focus on the hike itself. The hiker needs to truly let them immerse in the beauty of nature. We can do this by disconnecting with the digital world and just admire the nature!
Most Recommended