San Diego Vacation To Stay Fit And Have Fun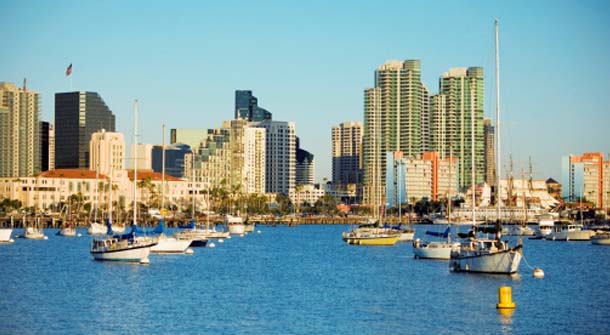 If your new year's resolution was to travel more this year we recommend starting right here in San Diego USA. To put you in the best locations for each season we have our Four Corners for Four Seasons tour that we are going to kick off in sunny San Diego. Vacation in San Diego where you can stay fit and have fun.
Stay fit in san diego
While old man winter is still punishing neighbors up north San Diego is a great place to visit due to its warmer climate and 70 miles of beautiful pacific beaches. This picturesque city offers a charming downtown and a multitude of outdoor activities to help you stay fit while getting in some fun and relaxation at the same time.
Visit the Beaches of San Diego
A great place to start your vacation is at any of the many beaches. All are free and open to the public and you can enjoy activities like surfing, body boarding, collecting seashells or soaking in the California sunshine. La Jolla Cove is a swimming and diving paradise. It's part of the Underwater Park Ecological Reserve and is sheltered by cliffs. The views of the Pacific Ocean are one of a kind and it's a great place to take in a beautiful sunset.
Go to the Old Downtown
After you have cleaned the sand out from between your toes head over to the historic downtown Old Town district. This quaint district holds all of the rich history of San Diego. Cruise the streets lined with old houses and places like Seeley Stables, the blacksmith shop and the oldest school house in the city.
San Diego is also no stranger to elite athletes. It is the home of the San Diego Chargers, the world famous golf course at Torrey Pines and has U.S. Olympic Training Center in nearby Chula Vista. The Olympic Training Center offers free tours where you can take a sneak peek into the world of an Olympic athlete and see where they train and live during their preparation for Olympic glory.
The Big Bay
The biggest attraction and place you cannot leave San Diego without visiting is the Big Bay. The Big Bay starts at Point Loma and stretches down along Harbor Drive to the south shores of Imperial Beach. In Seaport Village you'll find a mix of bistros and boutiques, live music and talented street performers. The Yacht harbor, Maritime Museum and Naval Station are just a few other stops to make while navigating your way around. So pack your bags and make your first trip to the southwest corner of the US it's a great time of year to start your first trip.
Most Recommended