The Man Cave: 3 Things to Make it Complete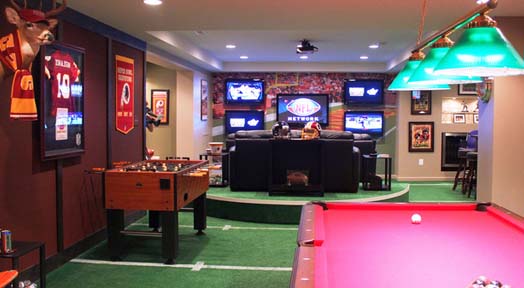 The man cave is a great place where men can relax and really unwind away from the pressures of life and family that is geared specifically towards them. From a distinct "masculine" décor to the fun things that make unwinding a great past time, the man cave needs a few things to truly make it complete.
Man cave 3 things to make it complete
Picking the Right Space for Your Man Cave
For those men who have a little more leeway when it comes to choosing the right space for your home, it is important to think about the purpose behind the room when you pick a room. For some men a converted garage where they can work on restoring a vintage Harley Davidson is the right choice; other men might find a basement with it's already "cave-like" feel the right choice to create a dark and moody lounge where they can forget about the rest of the world for a few hours at a time. Picking the right space for your man cave is essential to creating the perfect man cave for you, so chose wisely.
Choose the Right Décor for Your Man Cave
For most men décor isn't high on the list of things to do, but the right décor can really create the right space that you can truly call a "man cave". Whether you chose a décor that evokes a vintage speakeasy with a drinks bar and moody lighting or a sports bar feeling with a huge TV and a jukebox, you want to really think about what you put into the room. The décor can set the scene and allow you to feel as if you're in a completely different place than actually are.
The Entertainment Center
Most men create a home to sit back, blast their music and watch the Super Bowl with their buddies, and to do that right you need to have an entertainment center that pairs well with that purpose. A high definition TV, state of the art audio system and so forth allow you to create a technology Mecca where the football game is in all its hi-def glory, the sound is perfectly clear and the moment with the guys is everything it should be. Your entertainment center is oftentimes the main attraction to a man cave, so it should take up a big chunk of your time and budget for you.
Most Recommended