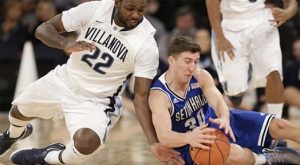 With just 3.7 seconds remaining and holding a 63-62 lead, it appeared third-ranked Villanova would hang on and advance in the Big East quarterfinals on Thursday. Seton Hall's Sterling Gibbs had other plans.
Gibbs took the inbounds pass from Jaren Sina and calmly drilled a jump shot from the top of the key as time expired to give the Pirates the 64-63 upset. The loss looks like it may cost Villanova a chance at a No. 1 seed in the upcoming NCAA tournament. The Wildcats, now 28-4, had only lost twice in conference play – both blowout losses to Creighton and its star Doug McDermott – and lost to a No. 2 Syracuse team back in December.
It looked like Seton Hall might blow out the Wildcats, jumping out to a 15-point lead midway through the first half. Villanova shot just 27 percent (7-of-26) in the first half, making only one three-point attempt. The Wildcats were able to cut the lead to eight by the intermission.
Villanova then used a 16-0 run in the second half to actually take the lead . The Wildcats looked they would escape when Darrun Hilliard scored from inside the lane with just 7.8 seconds remaining in the game. Seton Hall pushed the ball to midcourt and quickly called timeout to set the stage for Gibbs' heroics.
Eugene Teague led Seton Hall, now 17-16, with 19 points and 12 rebounds. Gibbs, a transfer from Texas, wound up with 10 points and six assists. Seton Hall held Villanova to 38 percent shooting – 21 percent from three-point range – for the game.
Villanova, which won its first outright regular season Big East title since 1982, was led by Josh Hart, who came off the bench to score 18 points and grab eight rebounds.
In other action in the Big East tournament, McDermott scored 35 points to lead Creighton to an easy win over DePaul. Providence advanced to the semifinals for the first time since 1997 with a win over St. John's and Xavier beat Marquette, 68-65.