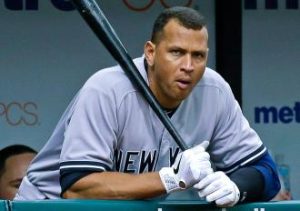 The embattled Alex Rodriguez now faces a most certain suspension, but not for violating MLB's rules on performance-enhancing drugs. Rodriguez may be suspended under rules set forth in the league's collective bargaining agreement.
The New York Yankees third baseman, who is getting ready for another rehab stint, could be suspended under Article XII B of the Basic Agreement. The provision allows the league to suspend players for just cause for conduct that is detrimental to the best interests of baseball. The conduct does not have to be that which violates any federal, state, or local laws.
This strategy by MLB, going after A-Rod under the CBA, means that the league can get Rodriguez off the field immediately. If the league goes after Rodriguez for a violation of their drug policy, A-Rod can still play while an appeal takes place. The appeal process could take several weeks, even months, to complete.
It has been reported that Alex Rodriguez was offered a deal from MLB to sit out the rest of the 2013 season and the entire 2014 season and then be eligible to return in 2015. A-Rod has repeatedly said that he will fight any disciplinary action. Should Rodriguez fight and lose, he faces a lifetime ban from the game.
Rodriguez still has close to $100 million left on the remainder of his 10-year, $275 million contract. He would not be paid for any games that he misses, should he be suspended. If so, the Yankees would most likely try and void his contract. That will be difficult, though, under the collective bargaining agreement. If A-Rod hits 13 more home runs, he will tie Willie Mays with 660 and, as a result, achieve a $6 million bonus.
There has been no announcement as of yet as to where Alex Rodriguez will complete his five-day rehab assignment. He is to begin on Thursday and, if healthy, would be ready to return to the Yankees' lineup on August 6 when New York faces the Chicago White Sox.