Andy Murray KO's Djokovic To Win Wimbledon Title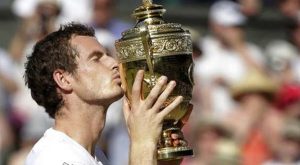 Andy Murray became the first Brit to win the men's singles title at Wimbledon in 77 years with a 6-4, 7-5, 6-4, victory over world No. 1-ranked Novak Djokovic Sunday.
Andy Murray finally got the monkey off of his back with the win. The world's No. 2-ranked player, Murray has reached the finals of the last four majors he has attempted. He won last year's U.S. Open in September. He was forced out of last May's French Open due to injury.
Up 40-Love and serving for the match, Murray could not close the deal. He couldn't convert his first match point nor could he end it on the second. Djokovic fought back to tie the game at 40-40, and after three break points finally hit the ball into the net to give Murray the win.
It was redemption for Andy Murray who lost in last year's final to Roger Federer. Federer, Rafael Nadal, and Djokovic have won 30 of the last 31 Grand Slam titles. With Federer aging and Nadal fading, it was time for Murray to jump at the chance to stake his claim as one of the world's best. With his Wimbledon win, he very well may have made the Big Three (Federer, Nadal, Djokovic) into the Big Four.
Next up in the Grand Slam schedule is the final event of the year, the U.S. Open, which gets underway August 26 in Flushing Meadow, New York. Murray most certainly wants to win consecutive titles.
Even though Murray won on Sunday in straight sets, it was a battle. The Dunblane, Scotland, native was down 4-1 in the second set and 4-2 in the third before battling back to win both. Andy Murray became the first British male to win the grass-court Grand Slam tournament since Fred Perry won it back in 1936.
Most Recommended