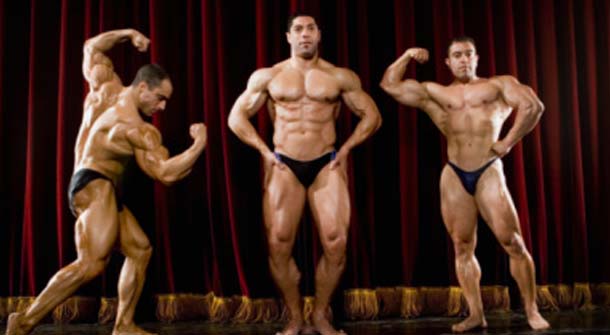 Just in case you don't know how a bodybuilding show is run, I thought I'd give you a generic, inside look at how a show is run. However, before I do, I would strongly suggest actually going to a show to see it for yourself. Believe me when I tell you, there is nothing more instructional than going to see a show with your own eyes. There are two separate components to a bodybuilding show – Pre-judging and the Night Show. Let's start with the first part of your day.
Bodybuilding Show Pre-Judging
That term is a little misleading. Actually, most (if not all) of the actual judging is done during this time. It usually starts anywhere between 10am-11am for a given show. The order of who goes on first usually depends on the show, but that isn't the part that really matters. Depending on the organization you are competing in, there are different ways to go about this. But, like I said, I'll give you a generic view.
You will be brought out with all of the other competitors in your weight class. You will go through each of the 12 mandatory poses – which you can check out online – called out by the Head Judge. After that, the order of how the competitors are lined up may be switched around. Normally, a good indication of who will do well is by who is brought to the center of the stage. From that person outward, you can normally gauge who is in the lead point-wise after this "judging" round.
The Night Show
The night show is mostly just that…a show. This part usually starts anywhere between 4pm-6pm. There is no real judging to speak of at this point (except if you are lucky enough to win your weight class). Each of the competitors by weight class will have an opportunity to perform their posing routine to music. Everyone has between 60-90 seconds to show the audience what they bring to the table. This is basically the "show" part.
This is where it gets interesting. Once everyone has performed their routine, each weight class is brought back out in number order and the top 3-5 placings (depending on the show) are awarded. Once all of the weight classes have been awarded, each of the weight class winners come back out and will be judged once again against each other (going through the 12 mandatory poses) to see who will be awarded the Overall Title for that show. If this is an eligible show, that overall winner will receive a Pro